Dialogues with Artists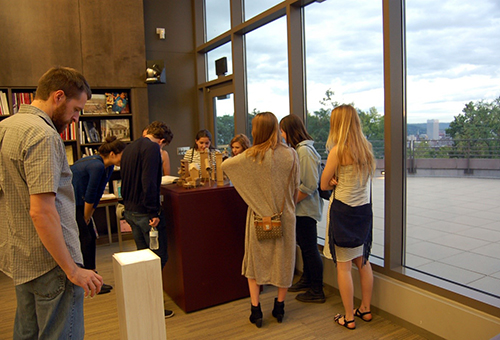 1/27/2017 at 7 - 8 p.m.
The voice of the practicing artist has been a key element of the series. At each event, participants have an opportunity to see up close a work by each of two participating artists, hear artists address the question: "Why do you make art and how does this determine your connection to your audience?" followed by informal discussion with the audience.
Two younger generation artists participating in this event are not afraid to address social and political issues in their work using engagingly provocative imagery.
Jimmy Baker
Assistant Professor, Art Academy of Cincinnati
Baker's work was exhibited in dozens of solo and group shows, both nationally and internationally.
He combines painting and a digital printing process. In his work Baker often is "questioning systems and structures that have a relationship to power rather than questioning the actions of power itself." 
Terence Hammonds
Cincinnati native, Hammonds grew up in Over-the-Rhine, attended the School for Creative and Performing Arts and worked at the Rookwood Pottery. He has exhibited nationally; his work is in many private and museum's collections.
Hammonds work is informed and inspired by the struggles and determination of African-Americans seeking equality during the civil rights movement of the 60s and fuses imagery from that era with soul, funk, rap and punk music. 
Informal conversation with artists is encouraged. Wine and cheese served.
Free. Reservations not required.
Add to Calendar