The holidays are a magical time of friendship, family, and conviviality. Perhaps one of the most human ways to mark the passing of the seasons and the coming of the holidays is through the finer things in life: food, drink, and art! Walking the galleries at the Cincinnati Art Museum is a wonderful way to get inspired to create your own feasting table this year. Here are some of the pieces from our collections that have sparked my festive table ideas. From wine and cheese to cocoa and cookies, there's something for everyone!
Please keep in mind that for the safety and care of the art, we do not allow any food or drink in the galleries. You can, however, enjoy a glass of wine at the Museum's Terrace Café or take your ideas home to create a spectacular feast of your own!
Afternoon Snack on Snowy Days:
This chilly, snowy scene reminds me of those glorious days as a kid when there would be enough snow on the ground for school to be called off. My brother and I would spend hours making snowmen, attempting igloos, and frolicking around the neighborhood. We would finally realize that our legs were partially numb and admit defeat. Inside we would indulge in a big mug of hot cocoa.
Hot Cocoa:
For extra luxurious hot chocolate use a mixture of milk and half-and-half with your cocoa of choice. Perfect for snow-lovers of all ages! If you're an adult, it's extra cold, and you don't have anywhere to drive tonight a tipple of brandy or your favorite liqueur makes this a perfect winter-time libation!
Pairing:
You can never go wrong with home-made cookies. Whether they are chocolate chip, shortbread, or rugelach, you can't beat anything fresh out of the oven.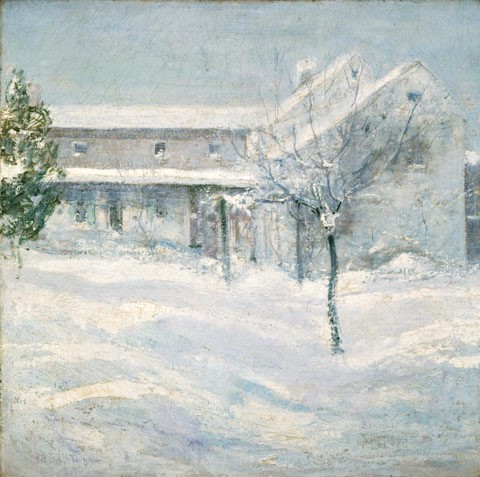 John Henry Twachtman (American 1853–1902), Old Holley House, Cos Cob, 1901, Oil on Canvas, John J. Emery Fund, 1916.3
Appetizers – The Ladies of Gallery 207
Gallery 207 is one of my favorite little nooks in the Museum. It is a small gallery in the second floor jam-packed with Baroque luxury. In particular, there are a number of excellent portraits of resplendent women from the eighteenth century. I always get the impression that they would make for excellent company at a cocktail party. I think if you got them in a room with some Champagne Cocktails, the party would really get started!
Champagne Cocktail
Nearly everyone loves sparkling wine, and it is the perfect way to start off a special evening. Instead of straight champagne, however, you can try a classic Champagne Cocktail. Soak a sugar cube in Angostura bitters and drop it into a champagne flute. Add a dash of cognac and top it off with your favorite sparkling wine and then garnish with a lemon or orange twist. Add your own flair by substituting the cognac for a splash of a light, floral liqueur such as Saint Germaine or Lillet.
Pairing:
An opulent cheese plate will never steer you wrong. Visit your local cheese counter and stock up on some favorites (perhaps a smoked gouda or aged cheddar?), but be adventurous and try something daring as well. I have tried a Lavender and Coffee rubbed cheese that is always a hit among guests. If you have guests who are lactose intolerant, get one or two sheep's or goats' milk cheese for them to enjoy as well.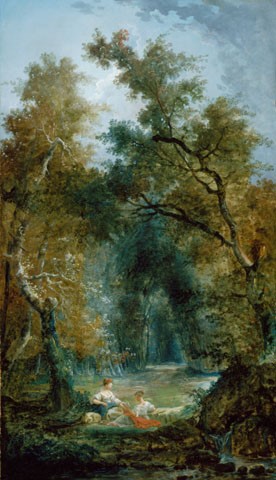 Hubert Robert (French, 1733–1808), The Glade, circa 1775, oil on canvas, Gift of the Duke and Duchess of Talleyrand-Perigord, John J. Emery, Mrs. Audrey Emery, Mrs. Robert McKay, and Mr. Thomas Emery, 1962.13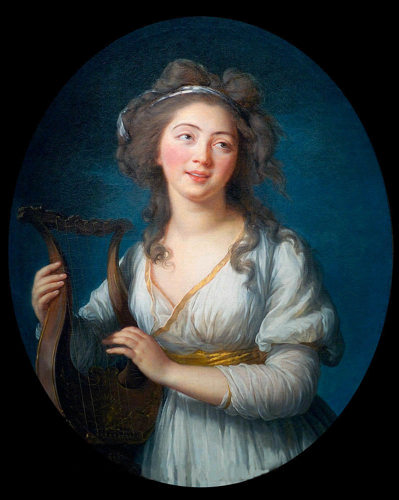 Élisabeth-Louise Vigée-Lebrun (French 1755–1842), Portrait of a Young Woman Playing a Lyre, Late 1780s, oil on canvas, Gift of Emilie L. Heine in memory of Mr. and Mrs. John Hauk, 1940.981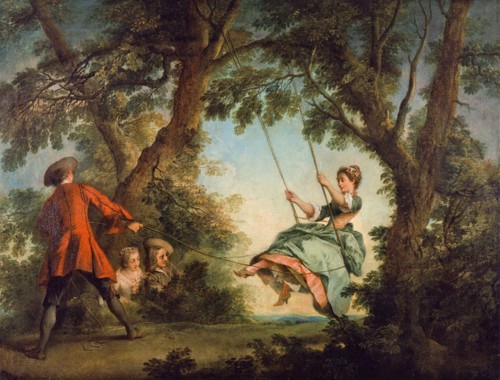 Nicolas Lancret (French, 1690–1743), The Swing, circa 1730–1735, oil on canvas, Gift of Emilie L. Heine in memory of Mr. and Mrs. John Hauck, 1940.976

The Main Course – the Dutch Galleries
The Dutch Galleries, from the moment you walk in them, seem to invite you to create an Ultimate Feasting Table. With its wood paneled walls and sumptuous still lifes along the walls, it is the perfect place to contemplate the perfect holiday meal.  Though it depicts the aftermath of a breakfast meal, this Still Life by Pieter Claesz evokes feasting opulence. For exquisite abundance at your table, you can't go wrong with a bold and assertive red wine.
Feasting Wine:
What type of wine you select depends, in part, on your main dish. If you are going with turkey or a vegetable dish, you will want to lean towards something that isn't overly aggressive. Merlot, despite getting a bad reputation from the movie Sideways, is a delightful varietal that complements nearly any meal without being overwhelming. It will always be a popular choice. If your main dish is heartier, perhaps a crown roast, a goose, or prime rib, you may want to consider something more audacious. I am always a fan of a red Bordeaux. These types of wines hail from the Bordeaux region of France, in the southwest of the country. They are typically blends of Cabernet Sauvignon, Cabernet Franc, Merlot, Petit Verdot, Malbec, and occasionally Carménère, or any combination thereof; for specifics check out the wine's label. While some Cabernet Sauvignons can be overly alcoholic and jammy, making them difficult to pair with food, French Bordeaux is typically better balanced. For a sophisticated and luxurious choice, you can't go wrong.
Pairing:
Whatever is on your menu! While I am Thanksgiving purist, I think the later holidays can be up to interpretation. If you want to go Full Charles Dickens, try a roast goose and plum pudding!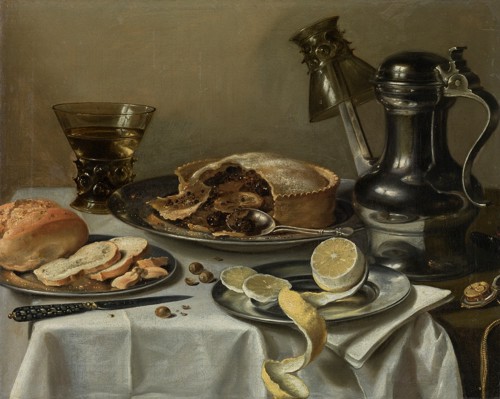 Pieter Claesz (Dutch, 1597–1661), Still Life (Ontbijtstuk with Berckemeyer), 1641, Oil on canvas, Mr. and Mrs. Harry S. Leyman Endowment and Bequest of Mr. and Mrs. Walter J. Wichgar, 1987.151
Dessert – The Damascus Room
The Damascus Room is a true gem of the CAM's collections. I know I'm not alone in secretly wishing I could snuggle into this opulent niche after an extravagant meal to finish out the night. Which makes it the perfect inspiration for an after meal retreat. It also serves as a reminder for reflection and remembrance at the close of another year.
Coffee:
What we know as "Turkish Coffee" is the typical preparation of coffee in most of the Arab World, including Syria, the origin of the magnificent room. This type of coffee is prepared with roasted and finely ground coffee beans which are then boiled in a pot, typically with sugar. The brewed, unfiltered coffee is then served in a cup where the grounds are allowed to settle. When you finish your cup, turn it over on to your saucer. Let it cool and take a peek at the patterns that the grounds have made. There is a long tradition of reading the patterns to try and tell one's fortune. I wouldn't buy a lottery ticket off your results, but it is certainly fun for the end of a festive evening.
You can make this delicious after dinner drink at home but it does need some special kitchen tools. Here is a video showing you the whole process. It is a bit more involved than our typical brewed coffee, but it certainly is worth the effort!
Pairing:
Coffee is an excellent mate to any after dinner treat you may have in mind. Pie is a perennial favorite, but you could also have a fruit and nut plate, or homemade Turkish Delight. There's no wrong way to go!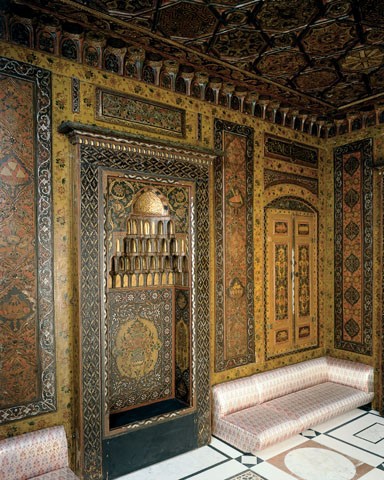 Damascus, Syria, Period Room from Damascus, Ottoman Period, 1711–1712, Carved and gessoed wood with painted decoration, Gift of Andrew N. Jergens, 1966.443
May you all have a wonderful holiday season full of joy, laughter, food, drink, and art!