Art Chat Live with ASL Interpretation: Native American Artwork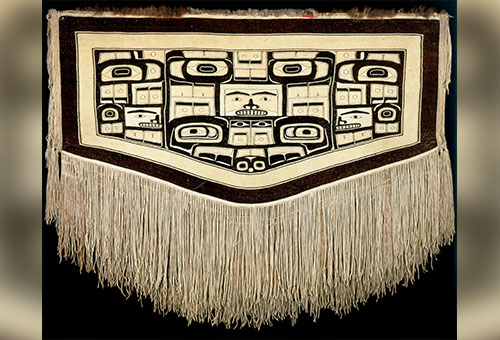 Saturday, November 14, 2020 at 11 a.m.–12 p.m.
This is a virtual event. 
Don't miss out on great art just because you are at home! In-gallery programs will restart in Spring 2021 depending on COVID-19 conditions.
Until then, join us on select Saturdays from 11 a.m–12 p.m for an online Art Chat. During each Chat, we will compare two different artworks from the museum's collection. As a group we will talk about how they relate to each other. The conversation is sure to lead to new discoveries and perspectives. An American Sign Language Interpreter will be facilitating each session, and live captions are available through the Microsoft Teams app. 
This program's theme: Native American Artwork
Click here to join the live event on December 12, 2020
Image: Chilkat Ceremonial Dance Blanket, 19th Century, Alaska/United States, mountain goat wool, cedar bark fiber, otter fur, dyes, Gift of Dr. and Mrs. W. W. Seely, 1888.282
Add to Calendar