Dialogues with Artists: Calcagno Cullen and Geoffrey "Skip" Cullen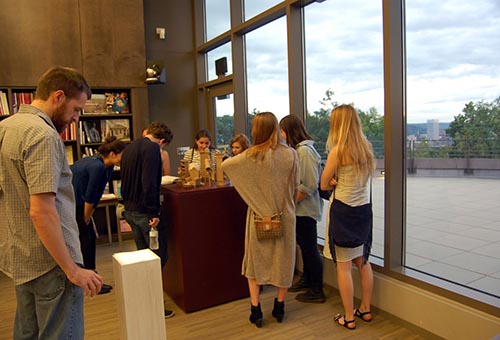 Thursday, January 17, 2019 at 6:30–7:30 p.m.
Converse and connect with wife-and-husband artistic duo Calcagno Cullen and Geoffrey "Skip" Cullen at Dialogues with Artists, a program that features influential artists in our region. Join us in Cincinnati Art Museum's Mary R. Schiff Library. Wine and cheese served. Free.
About the artists: 
Calcagno Cullen
Calcagno Cullen is a socially-engaged artist, arts administrator, curator, and educator. After receiving her MFA at the University of Cincinnati in 2007 she moved to San Francisco, where she served as the Education Associate for School and Teacher Programs at SFMOMA and Gallery Director for Adobe Books Backroom Gallery. After return to Cincinnati in 2014 with the goal of developing community and fostering positive social change through contemporary art, she co-founded, with her husband, Geoffrey Cullen, Wave Pool, a gallery, socially engaged residency program, studio, and community space. Cal's life mission is to create empathy and understanding through art. She has found that being multi-disciplinary and open to all mediums and avenues to success allows her research, artistic practice, and life on the whole to be much richer and more fruitful as a result.
Geoffrey "Skip" Cullen
Geoffrey "Skip" Cullen is a conceptual artist currently working in Cincinnati. His work has covered a range of subjects including Geometric Formalism, Absurdity, and Economic Systems. Cullen has shown his work widely throughout the US, including having work in New York, Miami, Chicago, and San Francisco. Cullen is also one member of a four-part artist collective named Slapface. The group continually finds new ways to engage the public using large scale, colorful, and absurd art installations commenting on advertising and marketing in capitalism. He is a founding member of the Adobe Books, and Arts Cooperative in San Francisco and Wave Pool, Contemporary Art Fulfillment Center in Cincinnati. He currently works as the Exhibitions Director at Visionaries and Voices, a non-profit inclusive arts organization that provides creative, professional, and educational opportunities.
Add to Calendar