Dialogues with Artists: Lindsey M. Whittle and Cedric Michael Cox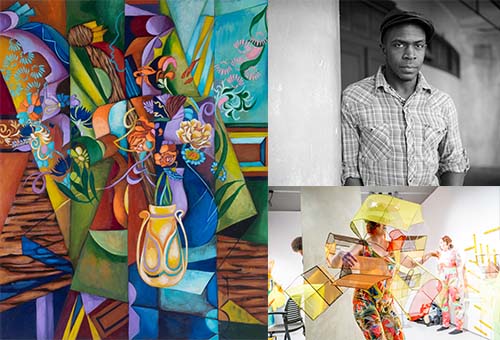 Thursday, September 19, 2019 at 6:30–7:30 p.m.
At this event you will have an opportunity to hear from two artists as they articulate an answer to the question: why do you make art and how does it determine your connection to your audience? Also, take an up-close look at their work. This popular event, now in its seventh year, moved to Thursday's evenings, as the museum stays open till 8 p.m. 
Informal conversation with artists is encouraged. Wine and cheese served. Free. Reservations not required.
This event takes place in the Mary R. Schiff Library & Archives. 
About the artists: 
Lindsey M Whittle is a fashion/performance artist who makes colorful, transformable objects as a starting point to collaborate with others. A single piece of her work often has many applications: it can function as an installation, on the wall, as a sculpture, on a body, etc. She works with brightly colored versions of: fabric, wood, foam, paper, make-up, hook and loop tape, acrylic Plexiglas and more. When possible she likes to use materials that are available to avoid waste. Making her work accessible to as many people as possible is also key to her process.
She received a BFA in painting from the Art Academy of Cincinnati, and Master of Design in Fashion, Body, and Garment from the School of the Art Institute of Chicago. During her time in Chicago, she studied under "Soundsuit Artist" Nick Cave, while also maintaining the position of "Master Crafter" at Kiki Magazine.  In 2014 two of Whittle's exhibitions were sponsored by Velcro Brand. She worked as the creative/wardrobe director for the "Lighting Fires" music video by Olivia Sebastianelli and co-designed light-up costumes for the Cincinnati Symphony Orchestra's Lumenocity Light Festival.
Whittle is an Adjunct Professor at the Art Academy of Cincinnati where she teaches sewing and performance art. Additionally, she teaches sewing to underserved middle and high school students through the Live it Like You Mean It Foundation. Currently she co-instigate and co-coordinates unique art experiences at PIQUE Art Gallery and Bed & Breakfast
Cedric Michael Cox is best known for his paintings and drawings which fall between surrealism and representational abstraction. His work expresses themes ranging from mythical literature to the relationships between the physical body, musical allegories, natural, and man-made landscapes. As a student at the University of Cincinnati's College of Design, Architecture, Art, and Planning, Cox was awarded a fellowship to study at the Glasgow School of Art in Scotland. After receiving his BFA in Painting in 1999, he began to exhibit locally and nationally.
His numerous exhibitions include the Contemporary Arts Center, Weston Gallery, Dayton Art Institute, Northern Kentucky University, Thomas Moore College and the Taft Museum, as well as galleries and art institutions in New York, Chicago, Philadelphia, and Sacramento among others. Cox currently has work showing at 21c Museum Hotel Cincinnati. In support of his efforts in the visual arts and art education communities, the City of Cincinnati awarded Cox the Individual Artist Grant in 2009.  He received a Congressional Award in 2010.
His art has been featured in magazines, on television, and in the college textbook Drawing: Space, Form, and Expression.  In addition to his work being in corporate collections, Cox executed two large-scale public murals for the city of Cincinnati and murals in various Public Schools in the Cincinnati region.
Add to Calendar