Evenings for Educators: Visit from the Cincinnati Opera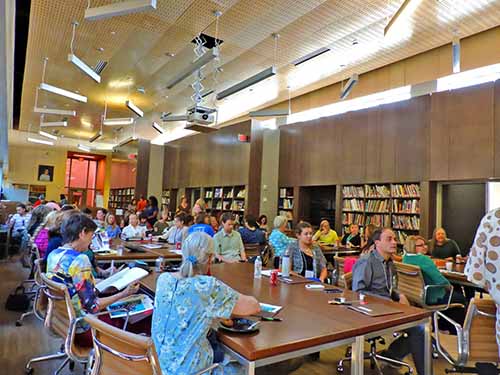 Thursday, November 21, 2019 at 4–7 p.m.
Evenings for Educators is the Cincinnati Art Museum's monthly teacher professional development program. Through the lens of the Cincinnati Art Museum's permanent collection and special exhibitions, Evenings for Educators supports all subjects taught in the classroom. We encourage a STREAM approach as well as 21st Century Learning strategies in the museum and classroom. This program is offered for teachers of all grade levels and disciplines, art appreciation volunteers, pre-service education majors, teaching artists as well as community and museum educators.

Come for an evening of music and art. Enjoy a performance by a Cincinnati Opera Young Artist. Afterwards, take a docent-guided tour of works in the collection that connect to music, art and singing. Two museum teacher stations will showcase lesson plans inspired by these works.  


Individual Sessions:
$5 for students
$10 for members
$20 for general admission
Series Pricing (all 8 sessions):
$70 for members
$150 for general admission

Reservations required. Make a registration for an individual session by clicking the "Purchase Tickets" link or by calling (513) 721-ARTS.


If paying out of pocket for the ENTIRE SERIES, please call (513) 721-ARTS to register. If your school will be paying for your Evenings for Educators or Membership registration, please CLICK HERE to fill out our invoice request. We strongly encourage calling or submitting invoice requests for series registration by 9/16/2019. Series registration will still be accepted after 9/16/2019, but we appreciate your understanding.

Participating teachers will receive CEU certificates in May. Graduate credit available for an additional fee through Ashland University. For more information, email [email protected] 
In partnership with:

Add to Calendar
Purchase Tickets