Fright Night **SOLD OUT**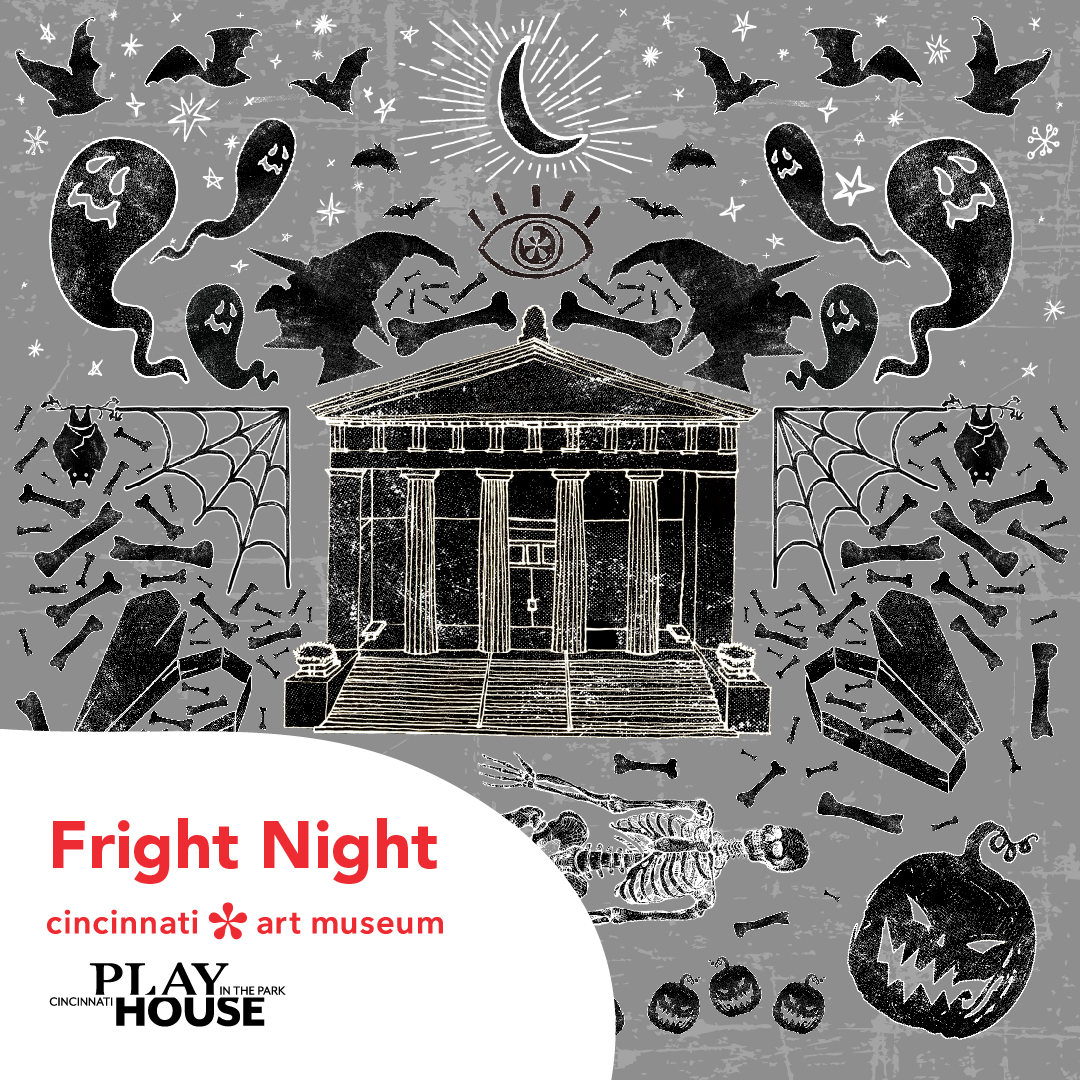 10/12/2018 at 5–9 p.m.
**THIS EVENT IS SOLD OUT**
Friday, October 12 and October 19, 5–9 p.m.
$10 members (ages 10 and up), $15 general public (ages 10 and up), $5 children (ages 3-10, Monster Mash only). RSVP required. Limited space. Tickets include tour, food and 1 beverage (alcoholic or non-alcoholic). See below for details. Cash bar available. Ticket required for entry.
It seems that certain objects come to life when visitors and staff are not looking at the Cincinnati Art Museum. It has been reported that Frank Duveneck's wife haunts the Cincinnati Wing, an inoperable clock chimes throughout the night and ghostly Civil War soldiers wander the galleries.
This fall, take a guided tour through one of the country's most haunted museums during Fright Night, an event in partnership with the Cincinnati Playhouse in the Park Off the Grid program, that brings together real accounts of ghosts and spookiness over the years.
Join us in the Great Hall before or after the tour for food, drinks and games! Tickets includes a half bacon jam grilled cheese sandwich, chips, cookie and 1 beverage (alcoholic or non-alcoholic). Vegetarian option available. Please indicate food preference in reservation online. One meal per person. Children must be accompanied by an adult when eating. Cash bar available. No refunds or exchanges of tour times.
Tour times:
5:30 p.m.
6:00 p.m.
6:30 p.m.
7:00 p.m.
7:45 p.m.
8:15 p.m.
Monster Mash:
While the adults scream, the kids will play. During your Fright Night tour time, send your little monsters to their own Halloween party! Kids ages 3–10 are invited to make monster crafts, participate in a thrilling dance party, and join in theatre games at this spooktacular party. Cincinnati Playhouse in the Park education staff will this lead this fun and interactive experience. Admission includes 75 minutes of play, food and drink. All kids must be potty trained. Food will not be available in the party room, but is available under parents' supervision in the Great Hall. Parents must attend a Fright Night tour in order to register their children for Monster Mash.
Kids can be dropped off by their parents at the Terrace Cafe at the allotted time…
Monster Mash Party Times:
5:15–6:30 p.m.–Corresponds with the 5:30 p.m. tour
5:45–7:00 p.m.–Corresponds with the 6:00 p.m. tour
6:15–7:30 p.m.–Corresponds with the 6:30 p.m. tour
6:45–8:00 p.m.–Corresponds with the 7:00 p.m. tour
7:30–8:45 p.m.–Corresponds with the 7:45 p.m. tour
7:45–9:00 p.m.–Corresponds with the 8:15 p.m. tour
Add to Calendar