Horror Film Fest: An Evening of Vampires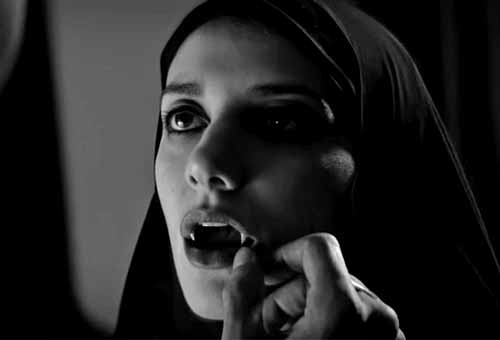 Friday, October 11, 2019 at 5–11 p.m.
Let the Right One In (Tomas Alfredson, 2008)
A Girl Walks Home Alone at Night (Ana Lily Amirpour, 2014)
Nosferatu the Vampyre (Werner Herzog, 1979)
Join us for this triple feature of arthouse horror films. This year, we are looking at the vampire mythos through three films from different decades and with distinct cultural perspectives. Come for one, two, or stay for all three.
FREE and open to the public. Reservations not required. Seating is limited and is first come, first served.
Cash bar available beginning at 4:30; beverages are permitted in the theater during screening. Please enter the museum through the DeWitt entrance – visitors will meet in the Fath Auditorium.
Program:
Let the Right One In
Directed by Tomas Alfredson, 2008, 114 minutes. Swedish with English subtitles. Start time: 5 p.m.
A fragile, anxious boy, 12-year-old Oskar is regularly bullied by his stronger classmates but never strikes back. The lonely boy's wish for a friend seems to come true when he meets Eli, also 12, who moves in next door to him with her father. A pale, serious young girl, she only comes out at night and doesn't seem affected by the freezing temperatures.
Swedish filmmaker Tomas Alfredson weaves friendship, rejection and loyalty into a disturbing and darkly atmospheric, yet poetic and unexpectedly tender tableau of adolescence. The feature is based on the best-selling novel by John Ajvide Lindqvist.
A Girl Walks Home Alone at Night
Directed by Ana Lily Amirpour, 2014, 100 minutes. Persian with English subtitles. Start time: 7 p.m.
The first Iranian Vampire Western, Ana Lily Amirpour's debut feature basks in the sheer pleasure of pulp. A joyful mash-up of genre, archetype and iconography, its prolific influences span spaghetti westerns, graphic novels, horror films, and the Iranian New Wave.
In her director's statement, Amirpour explains, "It's like Sergio Leone and David Lynch had an Iranian rock 'n' roll baby, and then Nosferatu came and babysat for them[…] I found a desolate, vacant oil-town in the desert of California which became the fictitious Iranian ghost-town Bad City, and suddenly there were no rules." Amirpour created her own universe, with a cast of characters inspired by pop icons from James Dean to Sophia Loren, and of course, the enduring Vampire.
Nosferatu the Vampyre
Directed by Werner Herzog, 1979, 107 minutes. German with English subtitles. Start time: 9 p.m.
"I feel the vampire genre is one of the richest and most fertile cinema has to offer. There is fantasy, hallucination, dreams and nightmares, visions, fear and, of course, mythology." -Werner Herzog
Herzog's homage to F.W. Murnau's iconic silent classic – itself inspired by Bram Stoker's Dracula – is a richly drawn encounter with human mortality, superstition, and symbolism. The story unfolds in lush color, with frequent collaborator Klaus Kinski famously convincing in the title role.
Add to Calendar