Indian Film Festival of Cincinnati 2017 Opening Film: "HARIKATHA PRASANGA ( Chronicles of Hari)"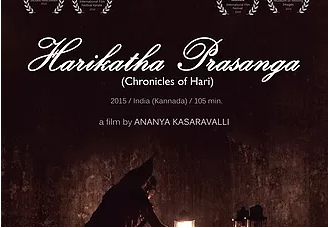 11/10/2017 at 6:45 P.M.
Organized and hosted by the India Sister City Association of Greater Cincinnati in collaboration with the Cincinnati Art Museum, this is the second year for the Indian Film Festival of Cincinnati. The festival is dedicated to screening feature, documentary and short films made in and about the Indian subcontinent or its people.
Click here for full schedule. To watch trailers, please click here. 
General admission $10. Ticket does not include admission into the Opening Night Reception. 
Online ticket sales end one hour prior to event start time. Please purchase tickets at the door.
Full Synopsis:
Brilliantly directed by the young talented Ananya Kassarvalli, Hari is the story of a young Yakshagana dancer, Harischandra  who is tormented by his gender identity.  Hari is known for performing female roles in the artistic traditional Yakshagana dance drama form of Southern India where all roles both male and female are enacted by male artists. The  film unfolds the dilemma of a young man who acts in the Yakshagana theater in a female role, and his artistic struggles with his dual personality. "Western audiences will latch on to the sensitively treated transgender theme, which proves an enormous source of conflict for the young hero, Hari. Played with great sensitivity by Shrunga Vasudevan, he's a star in his rural theater troupe. He'd like to try his hand at male roles, but his soft looks and melting eyes typecast him. After years of performing as a woman at night, he finds it harder and harder to turn back into a man in the morning. Marriageable girls avoid him, and when a willing lady approaches him for a night's entertainment, he's too confused to have any kind of sex life at all.In the film " (HollyWood Reporter). Hari's life unfolds in three episodes as  interviews conducted by two young journalists.
The acting is superb. This movie will capture your hearts. Join us for the opening night of the festival with this spectacular film. Nov 10.
Add to Calendar
Purchase Tickets