Indian Film Festival of Cincinnati 2017: "SHREELANCER"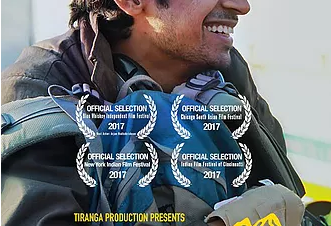 11/11/2017 at 7:30 P.M.
Organized and hosted by the India Sister City Association of Greater Cincinnati in collaboration with the Cincinnati Art Museum, this is the second year for the Indian Film Festival of Cincinnati. The festival is dedicated to screening feature, documentary and short films made in and about the Indian subcontinent or its people.
Click here for full schedule. To watch trailers, please click here.
General admission $10. 
Online ticket sales end one hour prior to event start. Please purchase tickets at the door.
Full Synopsis:
Shree, a Bangalore based mid 20's freelance copywriter is battling with nagging self-doubts about his artistic abilities. He does ads for small time ad agencies, but is quite frustrated that the world doesn't understand or respect Freelancers. Unable to concentrate at home, he visits various Cafes to find his peace and works from there. Addicted to his cellphone and the social media, Shree's worldview is shaped by what he reads online, not having traveled much in the "real" world. 
As fate would have it, Shree gets an invitation to attend an all-expenses paid trip to a College Friend's wedding in the North of India, a part of this vast country where he has never been before. And what was supposed to be peaceful getaway trip from the South to the North soon turns into a quirky adventure full of danger, excitement and introspection as Shree is challenged to question many of the stereotypes that he had built up within himself.
Tickets for other showings on 11/11/2017 (click on film title to purchase)
My Pot of Gold, 10:00 A.M. at Esquire Theatre
Pinky Beauty Parlour, 1:00 P.M. at Esquire Theatre
A Death in Gunj, 4:00 P.M. at Esquire Theatre
Half Ticket, 4:30 P.M. at Mariemont Theatre
Add to Calendar
Purchase Tickets