*CANCELLED* Connect: The Color Wheel: 11:30a.m.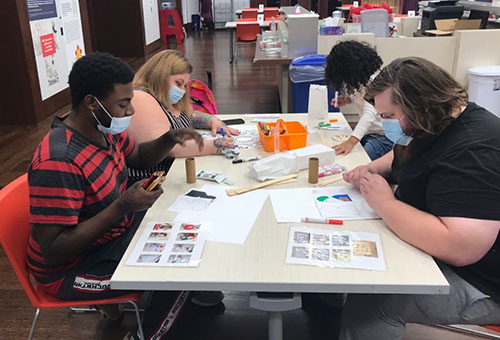 Saturday, January 23, 2021 at 11:30 a.m.-12:30 p.m.
This event is cancelled.
Join us for a socially distanced version of Connect: a Program for People with Developmental Disabilities and their Caregivers. On the 4th Saturday of each month, we will have 3, 1-hour Connect Sessions at 11:30am, 1pm, and 2pm. Each session will be limited to 8 people per session. Social Distancing from other families and masks will be required for all participants. There will be no shared supplies and enhanced cleaning procedures will be enforced.

Sessions will begin in the Rosenthal Education Center for the art-making component.  While we make art, we will talk about the artworks in the CAM collection that are related to our creation. After art-making, families will be given a gallery kit or worksheet that will help them create an interactive experience in the gallery. Please contact [email protected] with any questions or concerns.

FREE. Reservations required. Program registration will close the Wednesday before the scheduled program. 


Please review our health and safety procedures before visiting the museum. All Cincinnati Art Museum events and programs are subject to change or cancel at any time. We reserve the right to make any changes or cancel for any reason without notice. Please check cincinnatiartmuseum.org often for updates. 
Add to Calendar