CAM Kids Day Online: Glittery Goodness
Presented by:

Welcome to CAM Kids Day Online. Celebrate glitz, glamor and all things glittery with this online day of family fun. 
Meet Jeweler Laura Felger
Learn about some of the tools that are used to create beautiful jewelry from Laura Felger of Felg Studios
Make Pompoms with Genevieve Lavalle
Genevieve Lavalle is an artist and educator who makes jewelry out of yarn pompoms. Learn her techniques and make your own!
Happen, Inc. Design and color your own jewelry with this fun activity sheet.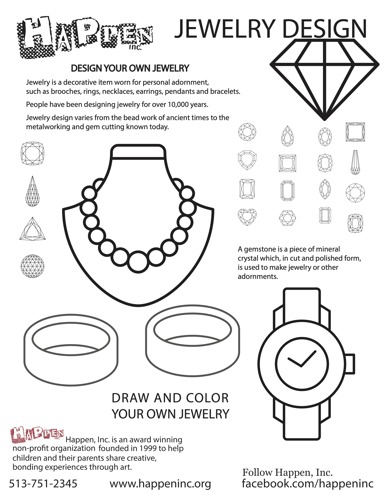 Create a Fancy Garland Add some bling to your home for the holidays with this easy-to-make ribbon garland.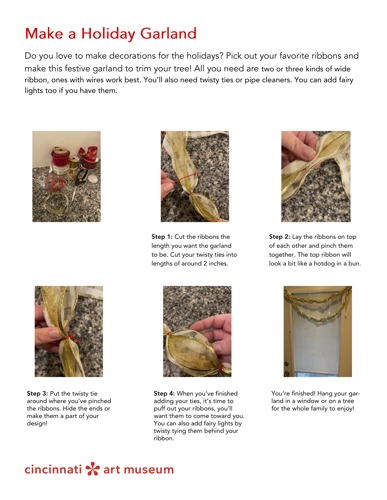 Cincinnati and Hamilton County Public Library:
"Fancy Nancy" by Jane O'Connor is a story about a little girl who adds glamor to her everyday life. Read by Miss Sam from the Walnut Hills Branch.
Make A Shiny Snowman with Visionaries + Voices
V+V artist Rosalind "Ros" Bush teaches you how to make a shiny snowman decoration using aluminum foil.
Scavenger Hunt
This month's scavenger hunt will have you finding sparkly and shiny artworks throught the museum's galleries.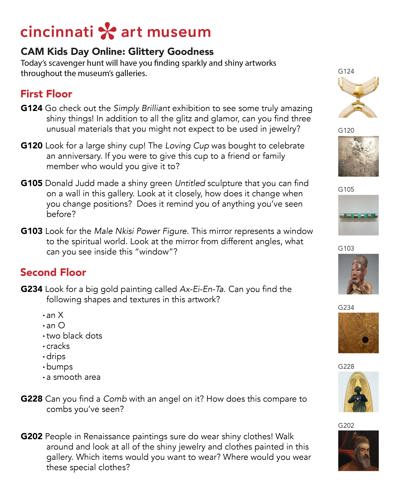 Congratulations to our Food Contest Winner
Congratulations to Grace, age 12, who has won our food contest from last month with her Miró-inspired dyed shortbread cookies.