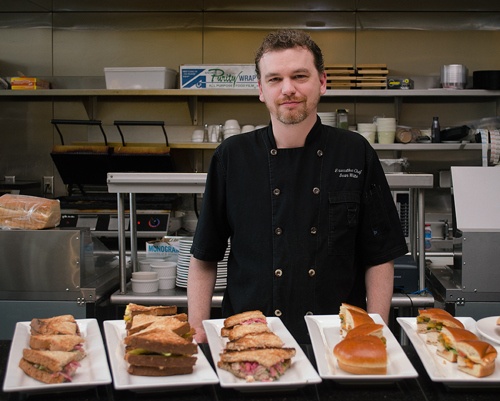 CINCINNATI – The Cincinnati Art Museum welcomes Executive Chef Sean White to lead its culinary team. In this position, White manages the museum's Terrace Café and creates its menu, directs kitchen team members and runs the catering for private, corporate and public special events.
Before joining the museum he worked as Four-Star Chef at The Celestial Steakhouse, Sous Chef at Hyde Park County Club and as part of the kitchen staff at Marriott RiverCenter. A resident of Bellevue, Ky., White was recognized at Iron Fork 2016 and his culinary creations have won awards at the Taste of Blue Ash.
The museum's chef faces unique challenges including not using open flames and artistically tying foods to art exhibitions. White enjoys preparing bold, exciting foods that pique his curiosity and will use his unique culinary experience to overcome the museum's challenges.
"This position is a great fit, and working among the art and with artistic individuals will inspire my creativity. Right now Mediterranean and Latin flavors are influencing me. With the Dressed to Kill exhibition going on now, I want to infuse a little Japanese as well," White said. "I plan to continue to use the art to influence our menus while capturing fresh flavors and giving our diners something they can't get anywhere else."
Museum visitors can taste White's passion for food when sampling the Cincinnati Art Museum's Terrace Café Spring 2017 menu, which will debut on March 21. The new menu will feature diverse gourmet selections including new ginger sesame shrimp and harvest spring salads, al pastor tacos, Cubano and jerk chicken sandwiches and Spanish-style beef short ribs, among others. The museum's classic chicken salad sandwich and Cobb salad will continue to remain on the menu.
The Terrace Café is open Tuesday–Sunday, 11 a.m.–3 p.m., and offers a limited menu on Thursday evenings from 3–7:30 p.m.
###
About the Cincinnati Art Museum
The Cincinnati Art Museum is supported by the generosity of individuals and businesses that give annually to ArtsWave. The Ohio Arts Council helps fund the Cincinnati Art Museum with state tax dollars to encourage economic growth, educational excellence and cultural enrichment for all Ohioans. The Cincinnati Art Museum gratefully acknowledges operating support from the City of Cincinnati, as well as our members.
General admission to the Cincinnati Art Museum is always free. The museum is open Tuesday–Sunday, 11 a.m. – 5 p.m. with extended Thursday hours until 8 p.m. cincinnatiartmuseum.org