This upright trio recently encountered one another in the Paintings/Objects Conservation lab.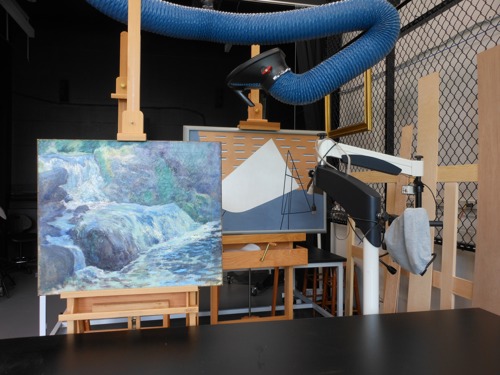 On the left, the landscape by 19th century American artist John H. Twachtman is being prepped to go out on loan later in the year.  Its gold frame is hanging high on the rack at right.  Our paintings conservator is taking this out-of-the-gallery opportunity to clean the painting, to remove its varnish, before it heads off to an exhibit at another museum.
The center painting, by 20th century American artist Ralston Crawford, is also going out on loan.  It's in the lab to be examined for an Outgoing Condition report before it is packed for transport. 
Finally, on the right, our shrouded Leica microscope occupies its usual standing storage position.  But it does seem to be communicating quite graphically with the Crawford.
Just another day of chance encounters in the Paintings/Objects lab!
John Henry Twachtman (1853-1902), Waterfall, 1895-1899, oil on canvas, Annual Membership Fund Purchase, 1900.44
Ralston Crawford (1906-1978), Aircraft Plant, 1945, oil on canvas, Museum Purchase, 1949.157