Open Tuesday–Friday, 11 a.m.–5 p.m.*
Open 11 a.m.–8 p.m. the fourth Thursday each month
Open the second Saturday of every month, September–June
*The library will close at 3:30 p.m. on the following dates in 2019:
June 25 | 

August 27




 
(Select Location: Cincinnati Art Museum Library)
Please note that all materials are for use in the library only and may not be checked out.
Mary R. Schiff Library Events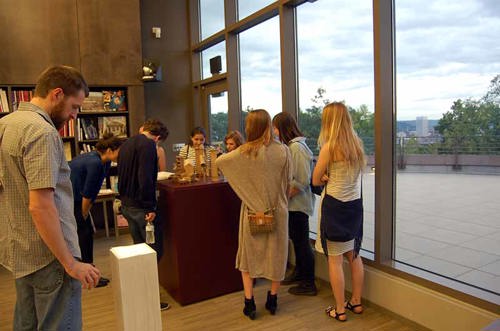 Dialogues with Artists In the Mary R. Schiff Library 
At this event you will have an opportunity to hear two artists to articulate an answer to the question "Why do you make art and how does this determine your connection to your audience?", as well as see up close their work. This popular event, now in its sixth year, moved to Thursday's evenings, as the museum stays open till 8 p.m.
Informal conversation with artists is encouraged. Wine and cheese served. Free. Reservations not required.
Upcoming dates: 
More information coming soon!
Founded in 1881, the Mary R. Schiff Library has an extensive collection of over 100,000 items spanning 6,000 years of art history, including decorative arts, fashion and photography. The collection includes books, reference resources such as biographical dictionaries, periodicals, videos/DVDs, ephemera files, auction catalogs and online databases. The Library also has a unique assortment of materials on Cincinnati art and artists.
The Library is open to the public and highly qualified librarians will be happy to assist you and answer your questions. Library staff can also help if you're looking for information on artwork or artists in the museum's collection or in your own collection.
Visitors are also welcome to browse the shelves, sit and read in the bright reading room, or enjoy a coffee on the balcony, while taking in the panoramic views of the city. For book lovers, there's also an ongoing book sale.
The Mary R. Schiff Library is located on the third floor of the Cincinnati Art Museum's Longworth Wing (the old Art Academy building.) Direct access to the Library is via the Castellini Foundation entrance (in front of the Pinocchio sculpture).
Contact Information

Email: [email protected]
Phone: (513) 639-2978