Still Life with Bread and Eggs, by French artist Paul Cézanne, was recently featured in special exhibition One Each. Once the exhibition closed, our paintings conservator took the opportunity to have it sent to the Paintings/Objects conservation lab for a possible cleaning. 
As usual, the painting was carefully examined and photographed in order to plan the treatment. 
Ultraviolet light can be very helpful in revealing the coatings and retouches.  Irregularities seen only in UV are often marked with chalk.  Then, once the painting is back in daylight, the marks can be used to guide the use of varnish-removal solvents. 
But the appearance of Bread and Eggs under UV light was so complex, chalk alone could not fully show the irregularities.  So our conservator propped a print of the complicated UV image among her solvent bottles to use as a guide while the painting was being swabbed.
Look for Bread and Eggs (and onions!) to return to the permanent galleries soon.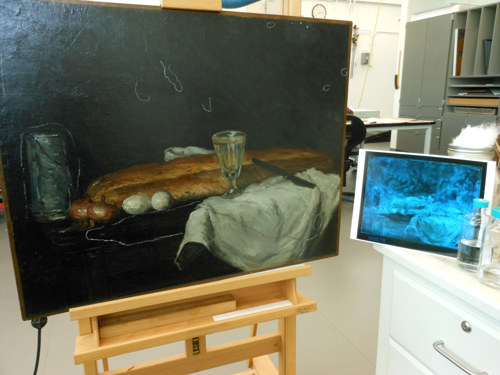 Paul Cézanne (France, 1839-1906), Still Life with Bread and Eggs, 1865, oil on canvas, Gift of Mary E. Johnston, 1955.73