Our paintings conservator is readying another painting for our upcoming exhibit, Henry Mosler Behind the Scenes: In Celebration of the Jewish Cincinnati Bicentennial, opening June 10th 2022.  Return of the Shrimp Fishers is being cleaned. 
Shown here during conservation, there is a subtle difference in color as the varnish is removed.  Best seen in the sky, the varnish has been removed from the right half of the painting, and remains to be taken off the left side.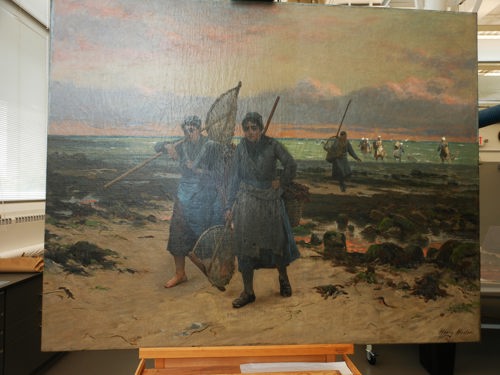 One of the discoveries made by having the painting in the conservation lab is that the artist reworked, or painted over, some of the scene well after the first composition had dried.  Mosler seems to have changed the time of day, altering a blue sky to a sunset, which is clearly visible at the edges of the stretcher.  The highly visible border also suggests that he made these changes while the painting was framed!
Even his signature, at the lower right corner, has been affected by the reworking.  The date, 1881, has been partially covered by a brushstroke of dull gray paint.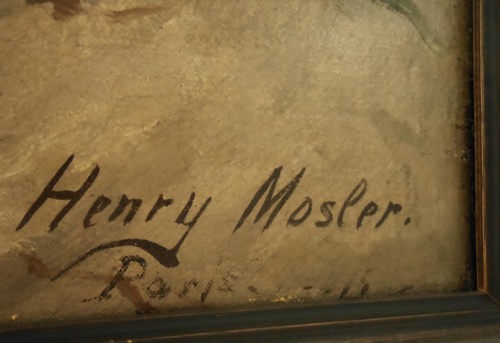 Once the painting is completely cleaned, it will be revarnished with a clear coating.  Be sure to look for it this summer in the special exhibition.
Henry Mosler, (American, 1841-1920,) Return of the Shrimp Fishers, Circa 1881, oil on canvas, Gift of Charles Fleischmann, 1895.6