This looks promising! Conservators often carry out tests to make sure proposed treatments will be safe and effective for the artwork. This close-up detail from a "spot test" of a rug from Turkestan or Kazakhstan was carried out using a small amount of deionized water applied with a cotton bud. The water is rolled onto the surface with the cotton bud and blotted off with cotton-rag blotting paper.
This test hinted at a dramatic difference! Can you see the light-colored spot the test created? (Hint: it's in a light area.) You can also see some of the soiling that was lifted off on the blotting paper.
We hope to move forward soon with an all-over cleaning that should remove quite a bit of the grey soiling—like the spot test predicts--and have this rug looking fresh again for future display.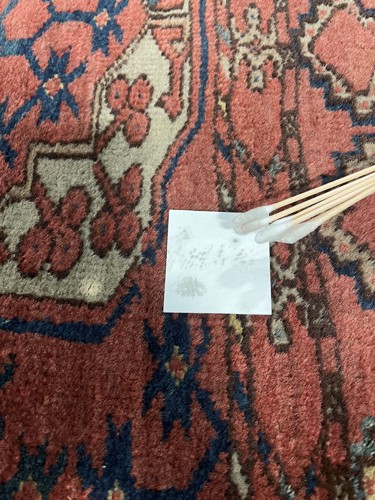 Tekke rug, late 19th-early 20th century, Turkestan/Kazakhstan, wool, cotton, Bequest of Charlotte H. Mackenzie, 1936.586