In a 2018 post the Paper Conservator wrote about conservation of paintings by the 20th century Chinese artist Wu Zhongxiong. 
The Cincinnati Art Museum does not have a conservator trained to treat Asian paintings, so to continue work on the Wu collection, the paintings are sent to a lab specially designed for this type of conservation.  For this to be possible, fundraising is ongoing to pay for the conservation.  Conservators contribute to the effort by providing information for grant proposals. 
When requesting grant money, the conservator describes what conservation treatment is planned and why it is important.  Shown here is a painting by Wu Zhongxiong that was selected by the Curator of Asian art to include in our next grant application.  Treatment will include cleaning the paper to remove acids and discoloration that developed over the years. (Notice the brownish-yellow "foxing" stains in the detail.)  The treatment goals are to improve the chemical stability of the paper, improve its appearance, and to mount the painting so that it can be exhibited in a traditional Chinese hanging scroll format.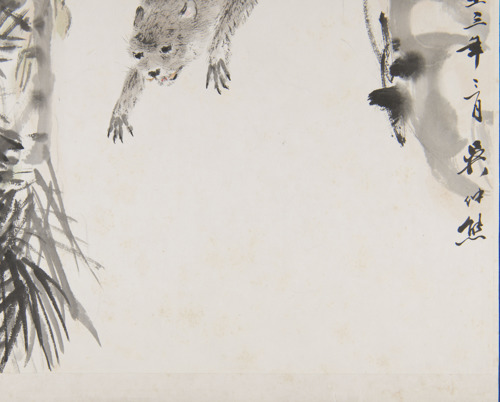 Wu Zhongxiong 吳仲熊 (Chinese, 1899-1989), Two Squirrels on a Pine Branch, 1953, ink and color on paper, C.Y. Woo Collection, donated by T.H. Wu, 2015.297