This past fall, preparators worked to upgrade the display in the museum's Hanna Wing galleries. The decision to prioritize this project was twofold. First, Ainsley Cameron, the museum's newly appointed Curator of South Asian Art, Islamic Art & Antiquities was interested in reinterpreting the galleries to present highlights of our Nabatean and Near Eastern Collections. Secondly, the existing lighting systems generated too much heat and were out of date.
For this new presentation, the art objects were divided into several thematic groups including worship, writing, representations of people and representations of animals. The installation team researched and installed new LED case lighting in addition to repainting the cases to give them a fresh look. Several months prior to re-installation, the team worked with Ainsley to lay-out the cases and document these decisions in order to make the appropriate plinths (bases) and mounts for display. Wooden plinths were constructed out of premium grade birch plywood to elevate and draw attention to specific pieces as well as create a dynamic case layout for the viewer. Prior to the finished display, each plywood plinth was sealed with 3 coats of a water-based sealer to prevent the wood from off-gassing, and then painted the appropriate color for display. 
The team worked for several weeks designing and building custom object mounts for pieces that needed to be either stabilized, slanted, elevated or projected from the backboard of the case in order to meet the curator's display preferences and priorities. These display mounts were constructed from a variety of materials and techniques including soldered and bent brass, molded Apoxie Sculpt and bent Plexiglas. In the images below, you can see how these custom mounts are used to display the artwork.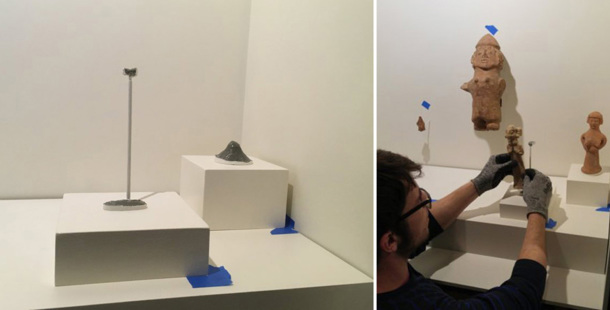 Preparator PJ Grimm installs 6-7th century BC earthenware figure onto a brass and Apoxie Sculpt mount that supports and stabilizes this ancient artifact. 

Object Conservator Kelly Rectenwald carefully places clay tablets and a gold plaque on their display mounts.