In honor of Asian American Pacific Islander (AAPI) Heritage Month this May, the Cincinnati Art Museum is continuing to recognize and appreciate the immense role Asian peoples and cultures have in our collection, and Asian Americans' fundamental human right to the pursuit of life, liberty and happiness in Greater Cincinnati and across the world.
Enjoy these works by artists who identify as Asian American or Pacific Islander in the museum's permanent collection.
Bukang Y. Kim (b. 1943)
Bukang Kim is a Korean-born American artist based in Cincinnati, Ohio. She received her early training at Seoul National University and, after coming to the United States in 1970, furthered her study at the University of Cincinnati. Her paintings and drawings have been widely exhibited in South Korea, Europe, and the United States. In 2014, the Cincinnati Art Museum hosted special exhibition Bukang Y. Kim: Journey, highlighting Kim's artistic journey of over thirty years.
The path Kim has traveled in the development of her artistic style is long and inspirational. Her migration to the United States not only led to her to develop a new sensitivity to the arts and cultures of her Korean homeland, but also helped provide her with a completely new cultural identity, reshaping both her technical and spiritual artistic perspective. Memories from the past, such as the resounding ring of the temple bell in the mountains (Image 1), the ancient wood columns (Image 2), or the paper-mounted sliding doors in the traditional Korean house (Image 3), evoke not only strong emotions associated with her home country, but also a new interpretation of the Asian philosophies and cosmological concepts (the Daoist duality of the universe: yin/yang, sound/silence, solid/void, within/without, light/dark) so familiar to her. Her western-based training combined with her deep understanding of the Asian aesthetics and strong discipline in Asian calligraphy has helped her create a powerful and distinctive pictorial language all her own.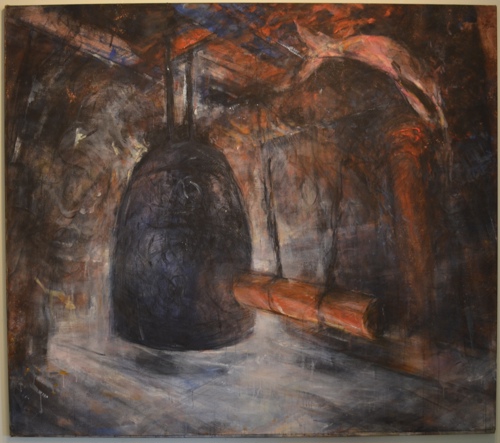 Image 1: Bukang Y. Kim, United States, The Bell, 1988, acrylic on canvas, 84 x 96 in. (213.4 x 243.8 cm), Gift of Bukang Yu Kim and Dr. Young Ghon Kim, 2019.291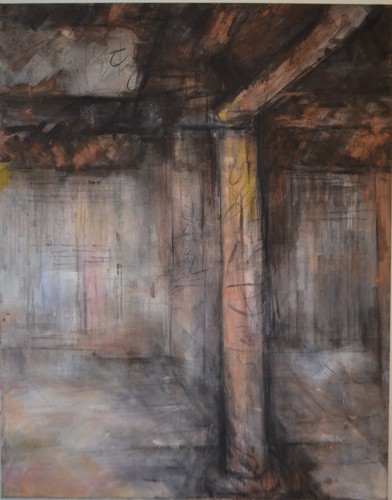 Image 2: Bukang Y. Kim, United States, Column, 1988, mixed media on canvas, 84 x 66 in. (213.4 x 167.6 cm), Gift of Bukang Yu Kim and Dr. Young Ghon Kim, and family, 2015.140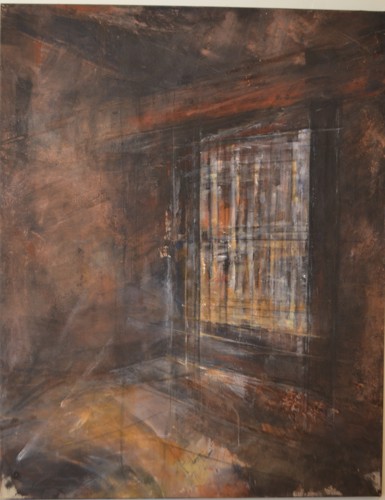 Image 3: Bukang Y. Kim, United States, Morning Calm, 1988, mixed media on canvas, 84 x 66 in. (213.4 x 167.6 cm), Gift of Bukang Yu Kim and Dr. Young Ghon Kim, and family, 2015.139
Nam June Paik (1932–2006)
When approached by the Cincinnati Art Museum to create a piece specific to Cincinnati, Nam June Paik suggested a video sculpture to honor Powel Crosley, Jr., the Cincinnati inventor and entrepreneur. Paik, who exhibited internationally, at that time assembled all his sculptures, including Powel Crosley, Jr., in a warehouse in the Cincinnati neighborhood of Over the Rhine.
The work consists of a variety of Crosley products: TV and radio cabinets, car hubcaps and handles, radios, freezer doors, and radio transmission tubes. The boxy-looking "portrait" is related to a family of human-looking robots that Paik created in 1986. In the Crosley sculpture, he used eight television monitors to project two different programs. These programs loop clips from a television profile of Crosley Paik intercut with popular imagery, which flash on the screens at a hypnotizing pace. In contrasting the antiquated Crosley parts with contemporary digital media, Paik made an oblique comment on technological evolution.
Crosley was born in Cincinnati in 1886. After working first in advertising and auto building, he brought the new technology of radio to millions through build-it-yourself kits. Crosley also founded radio station WLW and public television WCET, made the first car radio, built the first compact car, and owned the Cincinnati Red Stocking baseball team.
Paik, born in Korea, studied music and art history in Tokyo. In 1958 he met the composer John Cage, who became a lasting influence on him. In the 1960s Paik became fascinated with television and video. He exploited the medium to asset his belief that the human spirit is ascendant over technology, no matter how.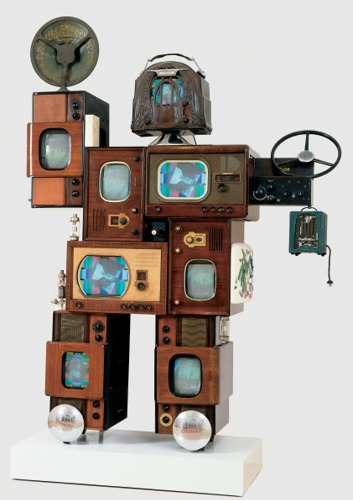 Powel Crosley, Jr., Nam June Paik (American, b.1932, d.2006), artist, 1992, Cincinnati/Ohio/United States, wood, plastic, paint, glass, custom electronics, parts from a variety of Crosley products that date from the 1920s through the early 1950s, eight CRT televisions, two DVD players, video, John J. Emery Endowment and The Edwin and Virginia Irwin Memorial, © Nam June Paik Estate, 1992.140
Kitaro Shirayamadani (1865–1948)
In 1895, the Rookwood Pottery Company began experiments to achieve the highly difficult technical feat of using the color black in its Iris glaze line. Their experiments succeeded, and in 1899 Rookwood launched the Black Iris glaze line, which featured natural-colored decorations, usually flora, on black backgrounds.
Japanese-born Kitaro Shirayamadani, Rookwood's most accomplished decorator, designed and created this masterpiece in the pottery's new line. It features birds flying above masterfully carved silver and copper water lilies, all against a black night sky. The complex technique of adding metallic decoration to clay via electrodeposit had been developed by Shirayamadani earlier that year, but Rookwood soon discontinued its application due to high production costs.
This vase, because of its date, its size, its use of the electrodeposited metal technique, its glaze line, its decorator and its quality, was almost certainly one of the works displayed at the Exposition Universelle of 1900 in Paris, where Rookwood received the grand prize–the fair's highest honor.
Shirayamadani continued to work for Rookwood until his death in 1948.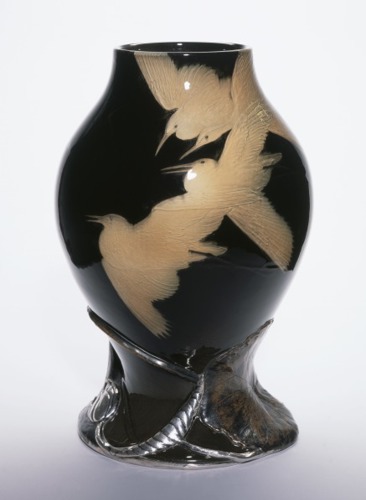 Vase, 1900, The Rookwood Pottery Company (American, est. 1880), Kitaro Shirayamadani (American, b. Japan, 1865–1948), decorator, stoneware, Black Iris glaze line with copper and silver electrodeposits, Museum Purchase: Lawrence Archer Wachs Fund and a generous gift from Judge and Mrs. Norman A. Murdock, 2004.68