When I was a child, I was uninterested in portraits. I came to the art museum looking for Art Deco metal work and magical turn-of-the-century landscapes – for the ten-year-old me, portraits were the stuff of a stuffy elite. Depictions of stern-faced sitters seemed devoid of imagination, bound in a distant past.
In light of this admittedly limited childhood perspective, it's funny that one of the photographs I most enjoy in the museum collection is a daguerreotype portrait of John James Audubon (1785–1851). A naturalist, ornithologist, and wildlife painter, Audubon is best known for his Birds of America, a masterful publication illustrated with 435 oversized, hand-colored engravings based on his nature studies. He lived in Cincinnati for a short time before 1820.
We see Audubon depicted from the waist up, wearing a vest and suitcoat. The collar of his shirt flares out under his chin, his white side-whiskers puff out from his face. He faces the camera at a three-quarters profile, his eyes focused somewhere beyond the frame. His gaze is sharp, and his long, straight nose is prominent over the down-turned arc of his closed mouth. It's hard to resist the temptation to liken his countenance to that of the birds he studied so ardently.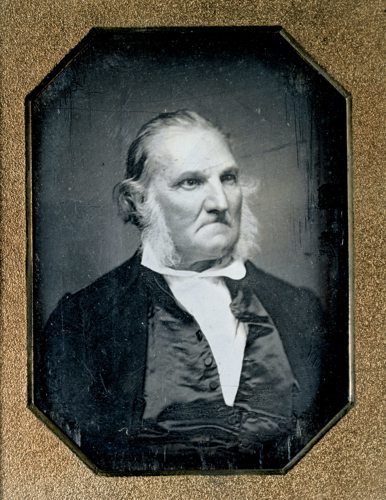 Made by the seminal American photographer Mathew Brady (1822–1896), this daguerreotype is thought to be the only remaining photograph of Audubon made from life. Brady is best known today for taking and circulating haunting photographs of the Civil War, but he was also a leading portraitist. It's likely that he made this picture of Audubon for his Gallery of Illustrious Americans, a suite of 24 biographical sketches of eminent public figures, illustrated with lithographs – reproducible prints – made after original daguerreotypes.
Despite my childhood disdain for "serious" portraits, I keep coming back to this depiction of Audubon. There's a presence about it – almost as if I could see life in his eyes. And in a way, it makes the past seem not so distant at all.
Image credit: Mathew Brady (American, 1822–1896), John James Audubon, ca. 1847–1848, daguerreotype, image 4 1/4 x 3 1/4 in., Cincinnati Art Museum; Centennial Gift of Mr. and Mrs. Frank Shaffer, Jr., 1981.144