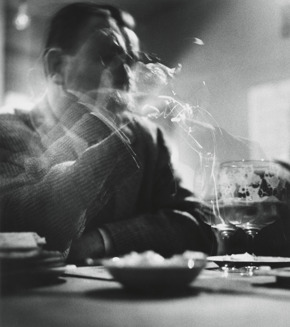 The inspiration for what became Kentucky Renaissance first hit me in 2011, when I was invited to organize an exhibition for a small nonprofit gallery in New York City. I had long been fascinated by the friendships of photographer Ralph Eugene Meatyard, writer Guy Davenport, Trappist monk Thomas Merton, and farmer and cultural critic Wendell Berry. In the exhibition I conceived then, I hoped to examine how those friendships affected their creative lives.
Logistical complications prevented me from pursuing that project. This, however, proved to be a blessing in disguise. Two years later I moved to Cincinnati to be the Cincinnati Art Museum's photography curator. Now less than ninety miles from Lexington, I began devoting time to researching the city's creative community during the middle of the twentieth century.
Meatyard is well known in photography circles; several large museum exhibitions and detailed books have surveyed his work. Most of these made reference to the Lexington Camera Club, but few looked closely at the club's role in his life, instead describing him as something of a lone genius, a Southern Gothic folk hero.
I soon discovered that he was, in fact, surrounded by other artists in Lexington whose undertakings were remarkably creative. Many were members of the Lexington Camera Club, and I resolved to bring together the most artistically adventurous members of the group in a new exhibition proposal. After that proposal was approved in 2014, the real work began.
The connections among club members extended outward into other corners of Lexington and its environs. My subtitle therefore invokes the "Lexington Camera Club and Its Community." Photographers, writers, printmakers, fine-press bookmakers, painters, musicians: as with many artistic communities, these Lexingtonians found inspiration and camaraderie across disciplinary boundaries. While Kentucky Renaissance is undoubtedly a photography show, I believe this broader context is important to keep in mind.
After all, inspiration only takes you so far. It's important to have a community of friends who share your interests and encourage your efforts. It's important for curators, critics, and art historians to remember this, and to bring to light those whose efforts were important in their time but whose reputations may now be eclipsed. Many lesser-known figures are lesser-known only due to the deficit of our attention. In this case, I discovered that many Lexington Camera Club photographers make strong claims for that attention, and their pictures reward close looking.
Image credit:
Ralph Eugene Meatyard, Untitled, 1957, Gelatin-silver print, 11 3/4 x 10 1/2 in. © The Estate of Ralph Eugene Meatyard, courtesy of Fraenkel Gallery, San Francisco, and DC Moore Gallery, New York.