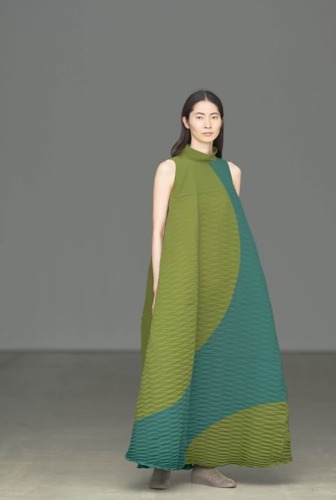 Designer photo courtesy Idlewild Woman
This fall, Cincinnati's Idlewild became the first boutique to bring selections from distinctive and celebrated fashion designer Issey Miyake's newest runway collection to a physical space anywhere in the region. To mark the occasion, the Idlewild team visited the Fashion Arts and Textiles archive at the museum, which is home to a collection of Miyake garments dating back to the mid-1980s, for a tour with Chief Curator and Curator of Fashion Arts and Textiles Cynthia Amnéus.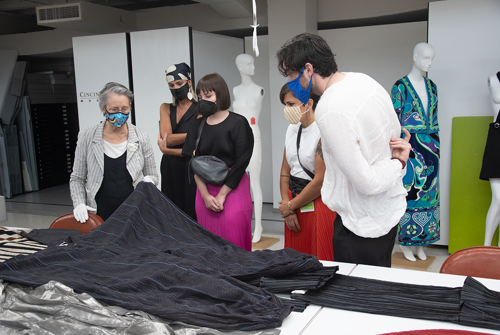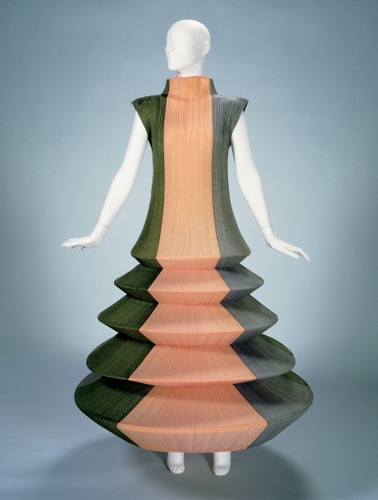 Issey Miyake (Japanese, b.1938), Minaret Dress, 1995, polyester, Gift of Miyake Design Studio in memory of Otto Charles Thieme, 1997.6.
"Miyake's design perspective carries soulful weight. A seer of sorts, his approach to fashion blended the Eastern and Western mindsets, the former based on the principles of fabric and the latter centered on the body as the foundation for clothing," wrote Idlewild stylist Nash Hill. "Throughout Miyake's 50-year career he's continued to push the technological boundaries of fashion and investigate clothing's relationship with the human form, abiding by his famous mantra, 'Design is not for philosophy, but for life.'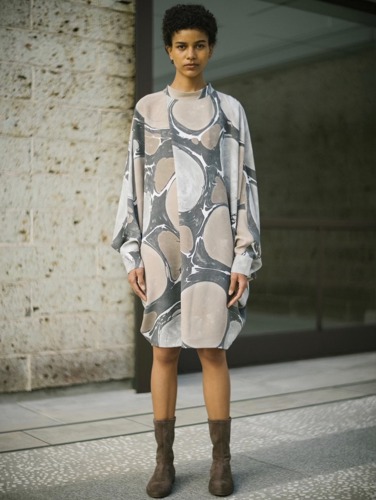 Designer photo courtesy Idlewild Woman
In the most recent fall collection, with some pieces available at Idlewild, Miyake's brand looked towards the "integration of nature," and the augmentation of its elements "through the technology, the idea, and the ingenuity," as described by the house's current designer, Satoshi Kondo," wrote Hill.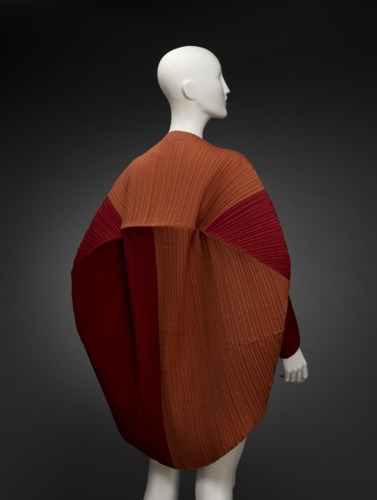 Issey Miyake (Japanese, b.1938), Rhythm Pleats Dress, 1990, polyester, linen, Museum Purchase with funds provided by Friends of Fashion, 2007.109.
[During the visit], our group circled around a large table upon which laid about seven or eight garments. An all-black ensemble from 1989 featured some of his earliest pleated work, the jacket and pants pieced together in an almost medieval armor-like fashion. A nylon jacket in a muted shade of saffron from 1996 wore sleeves with protruding forms of a deep crimson, accompanied by a heightened collar that altogether looked appropriate for a venture into space. Perhaps the garment most emblematic of Miyake's ethos as a designer was from 1990, named the "Rhythm Pleats Dress." Laid flat, the dress is a perfect circle with the only identifiable features being a neck hole and two sleeves. Subjected to gravity, the shape falls into a perfectly wearable evening garment."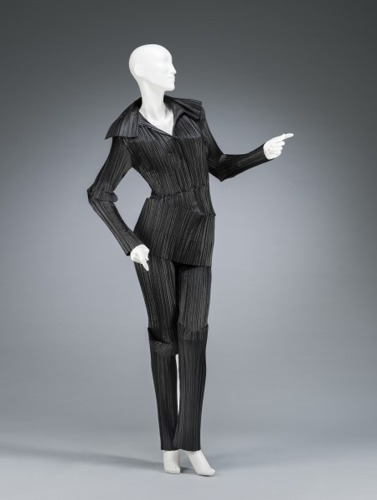 Issey Miyake (Japanese, b.1938), Ensemble: Top and Pants, polyester, Museum Purchase: Bequest of Fanny Bryce Lehmer, by exchange, 1990.17a-b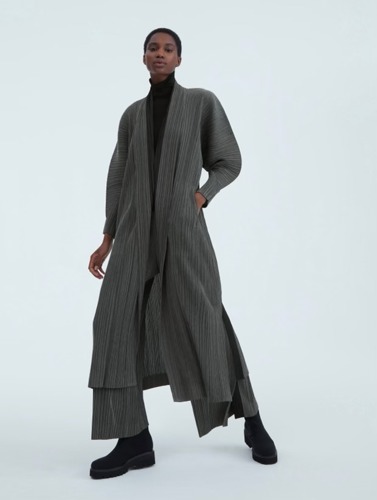 Designer photo courtesy Idlewild Woman
Visit the Idlewild Journal to read the full field report and learn even more about the designer's history and newest collection.