Evenings for Educators is the museum's monthly teacher development program. Each event features two teachers (one Elementary and one Secondary) who create and implement a lesson plan in their classroom. Attendees get a copy of that lesson plan in their folders the night of the program and also have the chance to ask the Museum Teachers questions. Each lesson references artwork from the museum's permanent collection, ties into the theme of the program and incorporates visual art with another discipline. Please enjoy this sneak peek of the Secondary Lesson plan by November museum teacher Amy Cholkas.
For November 15th's Evening for Educators, I will be sharing my (6-8 grade) lesson entitled Indian Wedding Rituals: Mehendi Hands with Backgrounds of Hand Block Printed Fabric. The lesson begins with the museum's A Seated Lady Holding a Flower. The beautiful lady from the Mughal period in India wears a green sari, pink flowered trousers and a white kurta. Her hands and fingertips are covered in henna, a tradition often used to enhance the beauty of Indian brides in the pre-wedding mehendi ceremony.
My middle school art students traced their own hands and arms on paper and then drew elaborate designs to represent the henna process. They carved their own block stamps and then printed the unique motifs on fabric or watercolor paper to mimic the block printed fabrics of India. Students also used their handmade fabrics to create unique pillows or scarves. In addition to this art making lesson, connections for history and language arts teachers are provided.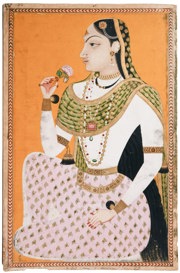 A Seated Lady Holding a Flower, Early 18th Century opaque watercolor and gold on paper, Gift of Mr. and Mrs. Carl Bimel, Jr., 1991.139