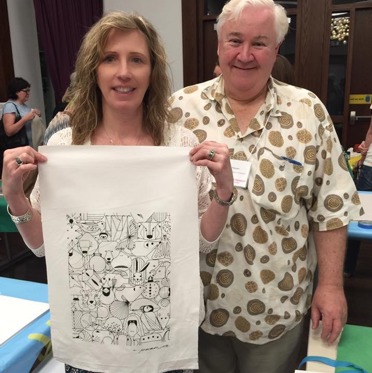 As a visual arts educator for the public schools, I am continuingly looking for professional development. The Cincinnati Art Museum is a great resource not only for art teachers but also for general education teachers. I can earn professional development to renew my Ohio teaching licenses as well as earn graduate credit. I personally, take advantage of this opportunity and earn graduate credits towards my master's plus 30. The Cincinnati Art Museum is the perfect place to do this. I have been teaching for twenty years and during this time I have been an intervention specialist, a kindergarten teacher and an art teacher. While I was a kindergarten teacher, I still attended the programs. Many of the sessions teach how to incorporate the general education curriculum with art.
I have been attending Evenings for Educators for approximately eight years. During this time, I have enjoyed many presentations by curators, artists and teachers. The program is always bringing in authors, illustrators, artists, and various speakers. At each session, all participants receive a folder with informative resources. These resources include lesson plans along with information about the lecture. Other items may include resources about upcoming art events around the community and art education news both locally and nationally.
Another treat for teachers is the food! Yes, after teaching a long day at school, the museum gives participants food! It is delicious! I personally, rush from school to make it to the event. I don't have time to pull through the drive through to pick something up to eat before, but the museum has thought of this! When you first arrive for the session, you sign in and then you receive your resource folder. You then proceed to the Great Hall where you can mix and mingle with the others. During this time, you can grab a bite to eat. It is so refreshing to be able to have this time to talk to the other teachers while enjoying the tasty food. After the mix and mingle part of the evening we all proceed to the lecture hall for a presentation. The presentations vary from guest speakers to the museum's own staff of curators.
One of my favorite evenings last year was the presentation by Brett Harper. I was so surprised when I arrived (I didn't look at the upcoming program highlights). I actually own a print by his mom Edie Harper and of course one by his dad Charlie Harper. I was so excited! We actually got to work with Brett and he showed us how to do screen prints (and we made one!). Another favorite presentation was done about six years ago when the museum was restoring the Van Gogh Painting, Undergrowth with Two Figures. It was so exciting to actually get to see curatorial working on restoring the painting.
The program not only focuses on the arts, but also shows us opportunities on how to link the arts with other core subjects. One of the speakers for the 2016-2017 school year was Tanny McGregor (educator and author of Comprehension Connections: Bridges to Strategic Reading as well as many other books for educators). She is very well known in the education world. I have also gotten to meet many children's authors and illustrators such as Will Hillenbrand, he even gave all the participants a free autographed book! The evening wraps up with docent guided tours of either the permanent collections or a special exhibition. During the tour, participants stop at teacher stations where an educator presents an art lesson plan to be used in the classroom. I have gotten so many ideas from these stations for my classroom. These ideas vary from Kindergarten to grades 12. Participants have presented ideas for STEAM, math in the arts, creative writing through art, photography, sculptures, weaving, art from found objects, various painting mediums, ceramics, printmaking and etching to name just a few. I look forward to my monthly class. How many teachers can actually say they enjoy taking professional development?