Many of the curatorial departments at the Cincinnati Art Museum have created "Friends" groups. Members of these groups enjoy unique encounters with artworks, visits with scholars and artists, and private receptions. The Friends of Photography recently traveled to Chicago for a special all-access tour.
On the first day, photography curators at the Art Institute of Chicago welcomed us to their wonderful institution. They led us on a tour not only through public exhibitions but also through the department's offices, print study room, and storage facilities. We were able to view incredibly rare photographs—up close and unframed. We saw objects only recently added to the museum's collection and learned about its future exhibitions and initiatives.
We later strolled down Michigan Avenue to the Museum of Contemporary Photography. Executive Director Natasha Egan welcomed us with a tour of its current exhibitions. Because it is part of Columbia College, the MoCP plays a different role in the community. It was fascinating to learn about the museum's collecting policy, its exhibitions, and its openness to both students and researchers.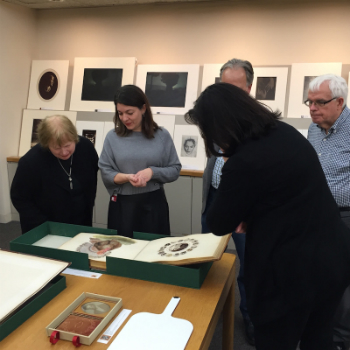 Art Institute of Chicago curator Elizabeth Siegel, second from left, describes a rare album of Victorian-era photo collages.
Day two featured visits to several photography and contemporary-art galleries. We learned the histories of these businesses and received behind-the-scenes tours. For example, Jessamyn Fiore, co-director of the Gordon Matta-Clark Estate, explained her exhibition of Matta-Clark's art at Rhona Hoffman Gallery.
Our final day involved a visit to Mana Contemporary, a large warehouse used for art storage and artist studios. Our visits with artists Jason Lazarus and Tony Tasset brought fascinating insights into their creative processes.
Artist Jason Lazarus, facing the camera, discusses his work in his studio at Mana Contemporary.
Throughout the trip, Friends of Photography members got to know each other better, often over fantastic meals at some of the city's bes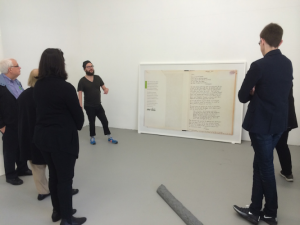 t restaurants. Despite a busy schedule, we even had a little time to explore on our own!
Most curators organize one or two Friends Group trips per year. They're a great way to connect with fellow art enthusiasts and to explore art scenes in other places.
Click here for more information about Curatorial Friends groups, or email [email protected]