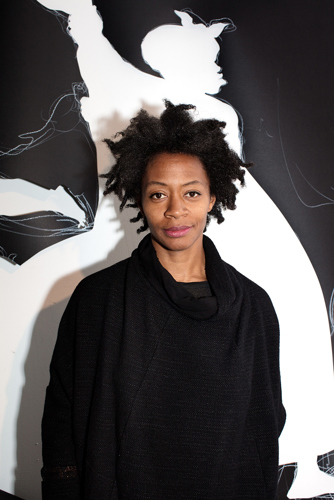 Image provided by New York Magazine
"I wanted to make work where the viewer wouldn't walk away; he would giggle nervously, get pulled into history, into fiction, into something totally demeaning and possibly very beautiful." Kara Walker
Kara Walker, born in 1969 in Stockton, California and raised in Atlanta, Georgia from the age of 13, is best known for her groundbreaking large-scale silhouette tableaux.
Walker studied at the Atlanta College of Art (BFA, 1991) and the Rhode Island School of Design (MFA, 1994). She is the recipient of many awards, notably the John D. and Catherine T. MacArthur Foundation Achievement Award in 1997 and the United States Artists, Eileen Harris Norton Fellowship in 2008. In 2012, Walker became a member of the American Academy of Arts and Letters. In 2015, she was named the Tepper Chair in Visual Arts at the Mason Gross School of Arts at Rutgers University.
Her work can be found in museums and public collections throughout the United States and Europe including The Solomon R. Guggenheim Museum, New York; The Museum of Modern Art, New York; The Metropolitan Museum of Art, New York; The Tate Gallery, London; the Museo Nazionale delle Arti del XXI Secolo (MAXXI), Rome; and Deutsche Bank, Frankfurt.
Inspired by history, literature, mythology, art history, and fantasy, her works engage racial stereotypes to address slavery, racism, exploitation, gender, physical and sexual abuse, and imperialism. Her hard-hitting, unorthodox depictions of uncomfortable subjects expose systems of injustice and the raw flesh of generational wounds still in the process of healing. Walker's work invites us to lean into our discomforts, our difficult questions and, perhaps, into our radical imaginations–a potent site worth tending as it is the place within that holds the possibility to shape a new future.
While promoting an exhibition of her Fons Americanus she said: "I'm not an actual historian. I'm an unreliable narrator." This insightful comment becomes incredibly meaningful when paired with her works. If we look at Walker's work as simply fiction, we miss how she's telling a truth based on real history. But if we look at her work as strictly historic truth, we miss the ways she's unpacking her unique interior landscape and making sense of identities that shape her and built this nation. Aren't we all a little bit unreliable when it comes to making sense of our identities within this nation?
Now on view at the Cincinnati Art Museum, is her career-spanning exhibition, Kara Walker: Cut to the Quick featuring more than 80 works created between 1994 and 2019 from the Collections of Jordan D. Schnitzer and His Family Foundation. This exhibition was first organized for the Frist Art Museum before traveling to Cincinnati. Cut to the Quick encourages visitors to rethink and re-examine our own histories and biases through a series of questions that prompt reflection. We encourage visitors to take the time to consider the imagery and meaning Walker explores—there are no easy answers to be found. We invite you to look more than once, try to see something new emerge in the work, challenge yourself to move beyond just your first emotional response to it.
"We understand that the works on view are complex, unsettling, and possibly triggering," says co-curator Ciona Rouse in a video introduction to the exhibition. We offer the Community Care Space in Gallery 232 as a safe place to reconnect with the rhythm of your breathing, rest, and reflect. This space and meditative programming were thoughtfully designed by Kara Pierson of Cincinnati's Lilac & Indigo. There is also an opportunity featured within the exhibition to share your ideas for shaping a more just and equitable world through a series of interactive writing prompts in Gallery 233.
Explore more about Walker in the exhibition and through some of the videos available through Dezign Ark, and articles available through The Collector and Art 21, as well as her website.