The Cincinnati Art Museum spoke to the artist behind the new retrospective Bukang Y. Kim: Journey. This is the first time this collection has been shown at the Cincinnati Art Museum. On display December 13, 2014 through March 15, 2015, the special feature can be found in the Sara M. and Michelle Vance Waddell Gallery across from the Museum's Terrace Café (Gallery 125).
Bukang Y. Kim was born in Korea in 1943. She received her early training at Seoul National University and, after coming to the United States in 1970, furthered her study at University of Cincinnati. Her paintings and drawings have been widely exhibited in South Korea, Europe and the United States.

What inspires you to create your art?
"The Asian philosophy of yin and yang and the idea of harmony are very important for my work. My work is a reflection of my experiences; it's affected by my emotions and by geography. When I am painting Korea my artwork, it's different than when I am depicting Ohio."
When did you come to Cincinnati?
"I came to Cincinnati when I was 27. I had a three-month-old baby at the time. My husband had gotten an internship at Good Samarian Hospital. While in Cincinnati, I had another baby, and I had my third baby when I was in New York City."
What are some of the challenges you have faced in creating your own art?
"Getting older and not having youthful energy are recent challenges. Dealing with more conceptual work that revolves around the themes of death and time are difficult for me."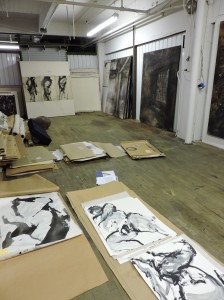 What do you want people to learn from your special feature?
"I want to open people's eyes to a different world or a new concept to see other roots or ways of life. I want to allow people to be taken out of their context in Ohio, and appreciate the Korean perspective."
What are you working on now?
"I continue to work on the human figure as well as landscapes and abstract pieces. Lately I am working on paper a lot.  Now I am working on more conceptual work, first I draw and paint then I cut up the painting and re-arrange it to form a new work.