As the head of design and installation, my job is to manage the execution of the Cincinnati Art Museum's temporary and permanent exhibitions.  Shortly after our new director Cameron Kitchin's arrival last year, we started the discussion of what we would show in the new galleries surrounding the new Rosenthal Education Center commonly known as REC.  We thought this new setting would be the perfect place to showcase our world class  Antiquities collection.
Teaming up with the University of Cincinnati Classics department lead by Dr. Kathleen Lynch, the museum's head curator Cynthia Amneus and freelance designer Sean Cottengim; we set out to design an elegant yet visitor friendly display that would bring people and art together.  With this in mind, we carefully considered the viewing height of a variety of display furniture to accommodate our younger guests and incorporated a number of docent suggestions into the gallery design.  In addition to the above considerations, our carpentry team was tasked with several challenges in regards to case construction.  This includes:
Creating a silica chamber in the design of the case that could be easily accessed by staff without removing objects (silica is used to condition and control case humidity)
Creating a ceiling that could house interior LED lights in a controlled and even fashion
Creating casework that could be easily accessed by a limited number of staff people
The UC Classics Department provided us with thematic groups of objects to lay-out within the space.  After several rounds of critiquing gallery layouts, we settled on a design that would accommodate the large quantity of objects slated for view, as well as encourage traffic flow to and from REC.  While a fair amount of work for this type of project is done digitally, there comes a point in the process when it is critical to work with the physical objects to further refine their positioning, see what actually fits and access and plinths and mountmaking needs required to display the objects appropriately.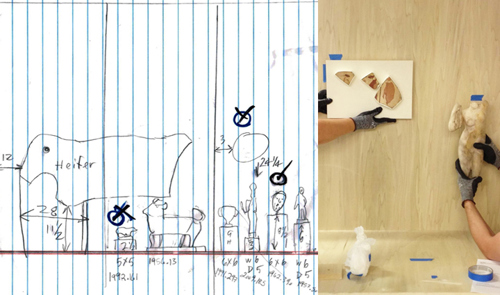 Mountmaking is a specialized field in which exhibition preparators design and build armatures to support and display 3-dimensional objects.  Mounts are custom built to suit each individual object and are created by bending and soldering brass, manipulating Plexiglas and making molds and impressions with sculpting materials.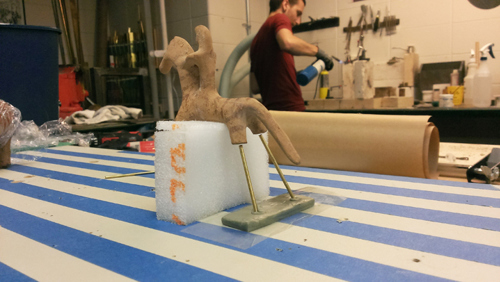 Once the cases were built by the museum's in house carpentry team, painters worked tireless to seal and paint every square inch of the casework.  Because many building materials  off-gas, conservation requirements dictate that we  seal  wood with a clear coating to prevent VOCs from negatively  effecting the museum's  objects.  Following the construction and painting, special UV filtering, hinged class doors were fit into the case openings.
After the doors were in place, we could then proceed installing the art objects.  While some of the installation was straight forward, there were a number of more challenging objects that required specialized equipment like chain hoists and lifts to bare the weight to successfully install these objects.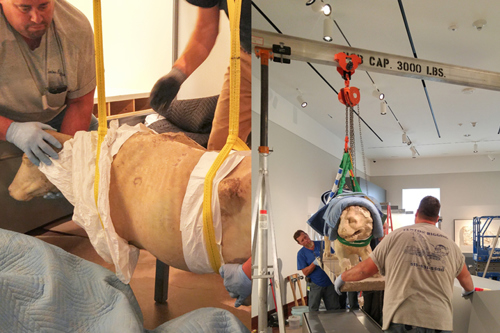 We are still in the process of putting the finishing touches on this installation.  We look forward to seeing you at the museum when these new Ancient World Galleries are open to the public on October 3.