Our visitors seem to be enjoying our new installation in the Schmidlapp Gallery, in which we aim to show eighteen of our most iconic pieces as an introduction to our whole collection of over 60,000 works of art covering six thousand years of human history. I get a lot of questions, though, about those curtains. Why does it look the way it does? And can you touch the curtains?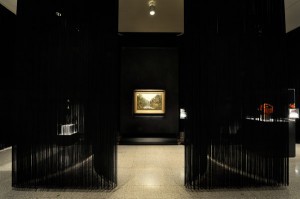 Yes, you can finger those black strings. I could blame the whole design on our excellent in-house architect Eli Meiners, but it was a group effort. We started with the result of some strategic planning we did at the Art Museum almost two years ago. Five different committees, with members from every department, as well as volunteers, examined how we appear, how we work, and how we look. We examined every aspect of what we do, and especially how we bring people and art together. It led us to rethink our exhibitions, our public programs, our communications, and even the website you are looking at right now.
One of the things we realized was that we wanted to make moments where you can truly concentrate on some of the great works of art we have in our collection. You should be able to lose yourself in them, and learn a great deal from a concentrated experience. At the same time, an art museum is a social place and you always want to feel as if you are part of a larger community. It should let you see the best at whatever pace you want, giving you an opportunity to browse, discuss, contemplate, and learn.
We decided to try this out in the Schmidlapp Gallery. I suggested that we might want to think of that long, thin space like a church, with side chapels each devoted to one single work of art. We didn't want the experience to be too sacred-seeming, though, and we certainly did not want to be blasphemous.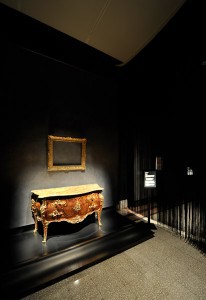 Eli suggested hanging the work on beautifully crafted walls, and devising a way to both light them and provide information that would concentrate your gaze. The Venetian plaster backdrops were the result. We still needed a way to define the space around each work, however, and that was difficult. Chief Curator James Crump and Eli both thought that we should try to keep the space open, and our Curator of Learning and Interpretation, Emily Holtrop, pointed out the importance of accommodating tours and docent activities.
Eli found a great new flexible wall system that we could shape according to our needs, altering it as needed. It was cheap and light, but it was also brand new, and the only installations we could see did not make us think that it would look good enough for the Cincinnati Art Museum.
Then Eli came up with the string curtains. I have to admit I was skeptical, because they reminded me at first of 1960s beaded curtains. The advantage they have –along with being affordable—is that they can create a sense of enclosure, without making you feel completely isolated. These curtains have a way of giving you glimpses of what lies beyond, while also having overtones of the kind of heavy curtains that once framed important works of art –including at the Art Museum, in the 1940s. Eli figured out a way to hang them so that you move through them without causing any harm, and have to really pull at them to get any of them loose. You can't hurt yourself by backing into them, and yet most people stay away from the curtains. If any rambunctious child manages to get enough time away from adult supervision to really do the job, each string is fairly easy to replace.
We decided to make the curtains black to help focus your attention on each work of art (and to lessen the 1960s associations) and we used theatrical lights to make that art shine. The labels also glow, so you can read them with ease. We are working on an installation towards the south end of the gallery that will tell you where to go in our other galleries if you liked one particular work or another, and a mobile app will make that even more easy by this December.
We are pleased with the way the Schmidlapp Gallery turned out. I think the eighteen pieces there look better than they ever had. If you are coming to the Art Museum to have lunch or for an event, and you just get a glimpse of something great on the way, that is fine with us. If you come here for the first time and see this installation, we hope you will be inspired to see more. And if you want to really get to Whistling Boy or Warhol's Soup Can, I think this will give you every opportunity. We would love to hear what you think of the installation. This is, after all, just the beginning. Next up: The Collections, a presentation of thousands of works of art in our second floor galleries.
Aaron Betsky