Remember when vintage clothing was a fashion faux pas? I am a bargain hunter at heart and while I have been buying from resale shops for ages, purchasing someone else's cast-offs was not always looked upon favorably. As Jimmy Fallon's alter ego Sara would say, "EW! You're wearing someone else's clothes?!" Now, however, resale stores are everywhere and you can wear your second-time-around clothes with pride. In 2001, Julia Roberts accepted her Oscar for best actress in Erin Brockovich, wearing a black and white vintage gown from the Valentino archives. Not too shabby!
One of the other people responsible for this widespread acceptance of cast-offs is Cameron Silver. Owner of Decades, a high-end vintage boutique in L.A., Silver has dressed A-list celebrities including Nicole Kidman, Jennifer Lopez, and Renee Zellweger in vintage pieces. And, of course, where celebrities go, others will follow.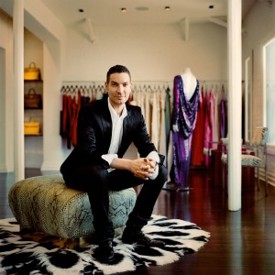 Cameron Silver, owner of Decades
Silver will be in Cincinnati on May 5th for a book signing for his lavishly illustrated publication, Decades: A Century of Fashion. He will also be promoting the exhibition he organized of 1960s fashion by California designer, Rudi Gernreich—best known for designing the topless bathing suit in 1964. This show will open at the Cincinnati Art Museum in February 2015. Silver will be bringing along some Gernreich pieces that will be for sale at the event. So, you can purchase your very own second-hand masterpiece and when you are done, donate it to the museum! A fundraiser for the Art Museum's fashion collection, you can find more info about this event by CLICKING HERE.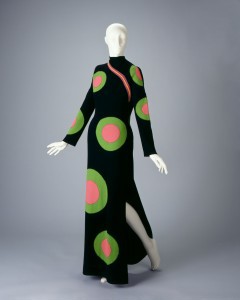 Rudi Gernreich (1922-1985) Dress, 1968-72, wool, On to the Second Century Endowment, Cincinnati Art Museum, 1999.58
While you would expect to find great resale shops in a city like L.A. or New York, Cincinnati has some gems too. I won't spill all my secrets here, but Moe Rouse's Mannequin in OTR has some great finds and Hi-Bred in East Walnut Hills is a favorite too. Happy hunting!
– Cynthia Amnéus, Chief Curator and Curator of Fashion Arts and Textiles
Banner image credit:
Rudi Gernreich (1922-1985) Dress, detail, 1968-72, wool, On to the Second Century Endowment, Cincinnati Art Museum, 1999.58