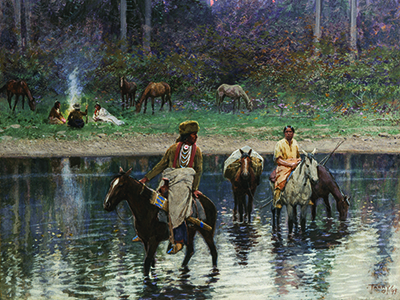 The Cincinnati Art Museum is proud to bring you an exciting exhibition entitled Vanishing Frontier: Rookwood, Farny, and the American Indian, which explores the art and history of Native Americans as depicted by Cincinnati's Rookwood Pottery Company and painter Henry Farny. Stunning ceramic portraits from the James J. Gardner Collection of Rookwood and exquisite Farny opaque watercolors from the museum's holdings as well as private collections offer a compelling view of the American Indian during the final days of the frontier. You have an opportunity to journey back in time when Americans were feeling the sentiment of loss for the frontier, and the Native American way of life was coming to an end. Also on view are American Indian artifacts from the museum's famous collection and the original photographic images that inspired the Rookwood ceramics.
Supported by:
The Farny R. Wurlitzer Foundation
Dan and Mim Hillenbrand
Betty B. Klinedinst
Cincinnati Art Galleries
A friend of the Cincinnati Art Museum
The Art Museum thanks the Henry Luce Foundation for supporting our ongoing research of Cincinnati's artistic heritage.
Image: Henry François Farny (American, b.1847, d.1916); The Ford, 1899; gouache and watercolor over graphite pencil; 15 15/16 x 11 in. (40.5 x 27.9 cm); Gift of the Farny R. and Grace K. Wurlitzer Foundation; 1970.183