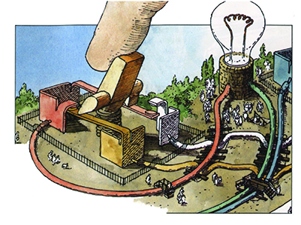 Imaginations will run wild this summer at the Cincinnati Art Museum and Fitton Center for Creative Arts as visitors enjoy the special exhibition Building Books: The Art of David Macaulay. Best-selling author and illustrator David Macaulay is recognized for visually communicating and revealing the inner workings and design of machines, buildings and everyday objects. His vibrant books have led readers of all ages on helter-skelter journeys inspired by travel, history and science. Visitors will delve into both parts of this free exhibition June 14 through Sept. 7.
"Macaulay is a gifted storyteller with a sense of humor and respect for history," said Marion Cosgrove Rauch, associate curator of youth and family programs at the Cincinnati Art Museum. "He has a skill for decoding elements of our complex world and helping readers appreciate the intricacy of common objects."
This exhibition presents a diverse range of over 200 objects including sketchbooks, travel mementos, artifacts, and book dummies. Visitors will examine how Macaulay brings together the worlds of art, history, science and fantasy through his nationally-recognized books including The New York Times best-seller The Way Things Work, Unbuilding, Cathedral, Castle, Ship, Mosque, Black and White, Rome Antics and Shortcut.
"We are proud to be partnering with the Cincinnati Art Museum to display the first major exhibit exploring Macaulay's career," said Cathy Mayhugh, director of exhibitions at Fitton Center for Creative Arts. "His work will put smiles on the faces of adults and children, and bring together all generations of our communities."
Marking the first-ever collaborative exhibition between Fitton Center for Creative Arts and the Cincinnati Art Museum, visitors can travel between both venues to see five significant aspects of Macaulay's work: "Big Ideas," "Journey Books," "Rome Antics," and "The Way Things Work" at the Cincinnati Art Museum, and "Building Ship" at Fitton Center for the Creative Arts.
"Big Ideas" will explore the mechanics of everyday objects, the construction of the world's most complex architectural structures and the hidden wonders of the human body. Visitors will learn about Macaulay's evolution as an artist and his innate desire to understand and explain how and why objects and structures come to be.
"Journey Books" will examine the unpredictable and often frustrating nature of the evolution of ideas. Original works inspired by Macaulay's love of travel are seen in his books Why the Chicken Crossed the Road, Baaa, and Black and White.
"The Way Things Work" will present visitors with the most recognized illustrations by David Macaulay. Both the original book and its newer edition are best sellers, and are often used by parents to better explain to their children the workings of their surroundings.
"Rome Antics" is inspired by Macaulay's studies in Rome where he became familiar with the city's museum treasures, magnificent architecture and cobblestone streets. These works will lead visitors on a whirlwind tour of Rome with the help of a wayward homing pigeon from the Italian hills.
The Cincinnati Art Museum's sections will also include reading spaces where visitors can flip through Macaulay's books and reference the illustrations seen in the exhibition, as well as a space to create their own structures using building blocks.
Fitton Center for Creative Arts will showcase "Building Ship" which presents an in-depth look at the creation of a book from concept, research and preliminary layouts to finished art and text. Through images and artifacts relating to Macaulay's book Ship, which explores boat building and maritime archaeology, this section of the exhibition offers insights into the artist's creative process. Visitors will see ship models, artifacts, studies, drawings, photographs and finished art.
Building Books: The Art of David Macaulay was organized by the Norman Rockwell Museum in Stockbridge, Massachusetts. Presenting sponsor is Frisch's Restaurants, and contributing sponsors are City of Hamilton, Dianne and Woody Fitton and Messer Construction Co.
Image: From The New Way Things Work, ©1998 David Macaulay