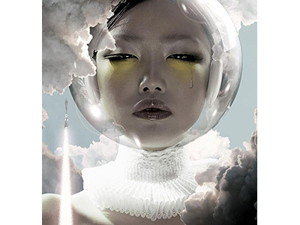 On Oct. 18, 2008, the Cincinnati Art Museum presents China Design Now, the first exhibition in the U.S. to explore the recent explosion of new design in China, where dynamic economic development and rapid cultural change are fueling unprecedented innovation in the country's design industries. The exhibition features the work of emerging and established Chinese fashion designers, graphic artists, and architects—as well as major projects in China by Western architects and designers—exploring how Chinese designers are mixing global influences with their own perspectives and history.
China Design Now is structured in three thematic sections, leading visitors on a journey along China's eastern coast: through Shenzhen, Shanghai, and Beijing. Each city is a starting point for the exploration of different design fields—graphic design and visual culture in Shenzhen, fashion and lifestyle in Shanghai, and architecture and urban spaces in Beijing.
Yung Ho Chang, one of China's most accomplished architects and head of MIT's Department of Architecture, designs the installation for the Cincinnati Art Museum's presentation of China Design Now. Chang's design creates three visually distinct styles for each of the cities featured in the exhibition. The galleries evoke the character of each city through the use of different materials, textures, and construction methods –a shimmering cloud‐like canopy over Shenzhen, translucent fabrics cantilevered from the wall suggest the new world in Shanghai, and hard block surfaces evoke the burgeoning construction in Beijing –now one and a half times the size of Manhattan.
"The Western world should be ready for the tremendous impact Chinese design will present in the next five to ten years, which will be similar to the significant presence of Chinese contemporary visual arts on the international scene," said Aaron Betsky, director of the Cincinnati Art Museum. "China is a country eager to re‐embrace its tradition of innovation and to create an international influence in the world of design. This exhibition supports the Museum's new commitment to bring global perspectives to Cincinnati as well as to help visitors more fully understand contemporary art and design."
China Design Now showcases over 250 objects across architecture, fashion, and graphic design, as well as film, photography, product and furniture design, youth culture, and digital media. This exhibition enables visitors to explore how China's design and consumer dreams began, how and why they are developing, and—most importantly—where they are going.
"The role of the independent designer is a new idea in post‐reform China," said Emily Holtrop, the museum's education curator. "Twenty five years ago China didn't even have a word for a designer, let alone a design industry. This exhibition gives visitors an opportunity to appreciate the influential designs generated by China's people at every level, from consumer goods to architecture."
China Design Now leads visitors through three specific time periods, while examining the evolution of specific design concepts that have emerged in each of these particular cities:
• Shenzhen (Frontier City), the development of graphic design from the early 1990s to the present day
• Shanghai (Dream City), fashion and lifestyle from the mid‐1990s to present day
• Beijing (Future City), architecture and urban planning spanning from 2001 to the present day
Shenzhen
Visitors begin their journey in Shenzhen and meet the dynamic people that have created a new language for its graphic design industry. In the 1980s, Shenzhen became the world's largest manufacturing center following China's implementation of economic reform policy. The planned city distanced itself from the political propaganda of China's past, attracting a generation of young design students and professionals influenced by contemporary Chinese culture. Today, many of China's cities have embraced innovative forms and styles of graphic design inspired by this fast‐growing youth culture. Shenzhen is now the city with the youngest population in China, with an average age of 27 among its 10 million inhabitants.
The exhibition includes work by designers such as Wang Xu and Wang Yuefei, pioneers of cutting‐edge graphic design practices that would later influence graphics produced in other Chinese cities. The exhibition also includes Chen Shaohua's iconic poster promoting the nation's first graphic design exhibition in 1992, which depicts two legs intertwined—one clad in traditional Chinese dress, the other in a Western‐style business suit. Also included in this section are products across various genres aimed at China's design conscious youth such as Chinese‐designed album covers, books, CDs, skateboards, Nike trainers, designer toys, and t‐shirts.
Shanghai
The journey continues along the coast from Shenzhen to legendary Shanghai. The historic center for embroidery and silk production, Shanghai has been considered China's foremost international city since the 1840s; now, it's becoming a global city on the scale of Tokyo, New York or London. Since its economic transformation in the early 1990s, a new class of trendsetters, tastemakers and designers has emerged in Shanghai. The exhibition spotlights the fashion and lifestyle that has defined the city's cultural renaissance and examines the aspirations of middle class homeowners that serve as a major design driver. Featured works include haute couture by China's leading designers Lu Kun and Ma Ke, glossy portraits of porcelain painted girls by Wing Shya and Chen Ma, a stool combining Chinese tradition with a modern shape by Fan Ming, and shapely tea sets by Lin Jing.
Beijing
The journey ends in Beijing, home to the imperial palace and court since 1420. In the last two decades, Beijing has emerged as a symbol of China's growing world presence. The process of preparation for the 2008 Olympic Games led to the re‐imagining of Beijing as a city for international consumption by a new generation of international architects and urban planners. A spectacular series of sports infrastructures, cultural landmarks, business facilities, and commercial housing units demonstrates the transformation of Beijing's cityscape and embodies China's grand ambitions on the contemporary global stage. Featured works include powerful images of the 2008 "birds nest" Olympic Games Stadium designed by Switzerland's Herzog & de Meuron and the sleek information center Digital Beijing designed by Zhu Pei. Other projects, such as Ma Quingyun's Father House, built from local raw materials, and the Tanghe River Red Ribbon project reclaiming a rubbish dump, focus on sustainability and preserving indigenous landscapes.
Pricing
China Design Now will remain on view at the Cincinnati Art Museum Oct. 18, 2008 through Jan. 11, 2009. Tickets are $8 for adults, $6 for seniors and college students, $4 for children ages 6‐17, free for members and children under age 6.
China Design Now was organized by Victoria and Albert Museum, London. P&G Design in partnership with CincinnatiUSA.com are supporting sponsors, LPK, Inc. is the associate sponsor, and Cincinnati Magazine is the media sponsor for the Cincinnati Art Museum's showing of China Design Now. Additional thanks to Fine Arts Fund Partners GE Aviation and U.S. Bank.
Image: Chen Man; Preference, front cover artwork for Vision Magazine, February 2004; © Chen Man; Provided by The Victoria and Albert Museum