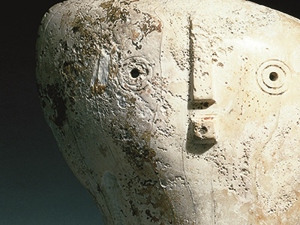 This summer, the Cincinnati Art Museum invites audiences to enjoy and experience an unparalleled selection of works from its vast permanent collection. June 28 to Aug. 31, Long Time No See: Hidden Treasures from the Cincinnati Art Museum reveals to the public more than 100 art treasures, most of which have not been on view in over a decade.
Since 1886, the museum's collection has grown in large part due to the generosity of Cincinnatians. Today, it stands as one of the country's most respected and encyclopedic collections consisting of over 60,000 objects spanning over 6,000 years of art history. Only six percent of the Cincinnati Art Museum's permanent collection is on view at any time due to current spatial constraints.
"The Cincinnati Art Museum is a major part of Cincinnati's cultural bedrock and its collection needs to be made even more accessible to the community," said Anita Ellis, deputy director, curatorial affairs. "From luminous brushstrokes to stunning tapestries, this exhibition allows visitors to appreciate remarkable works that enrich and enlarge their lives."
Long Time No See spotlights a range of work by various artists and their movements to provide visitors a snapshot of the breadth of the Art Museum's collection. Among the many works making their public debut, highlights include a vibrant watercolor by John Singer Sargent, A Falucho (1908) and an early 16th century silk scroll from the Ming Dynasty. Also on view for the first time is Donald Sultan's April Factory Painting (1978) featured in the 1979 Whitney Biennial.
Like many other historic buildings that evolve with the pressures of growth, the Art Museum's current physical plant and its configuration have become restrictive for its ever-expanding art collection, as well as the needs and services for its contemporary visitors. In addition to the over 100 works featured in the exhibition, Long Time No See includes a first look at how a revitalized Cincinnati Art Museum campus as imagined by Neutelings Riedijk Architects would address these issues of collection accessibility and audience services. Engaged by the Art Museum as the architecture firm that will redesign the Museum's multi-phase campus renovation and expansion, Neutelings Riedijk is internationally known for such projects as the Netherlands Institute for Sound and Vision (2006) and the STUK Performing Arts Center in Belguim (2002), and several distinguished social housing and campus buildings around the world. Based in Rotterdam, Neutelings Riedijk is recognized for its demonstrated ability to respond with exceptional sensitivity and ingenuity to historic buildings, their surroundings, and complex existing layouts. The Cincinnati Art Museum project is the firm's first project in the United States.
The Neutelings Riedijk architectural model of the proposed conceptual plan for the future Cincinnati Art Museum restores the building to its original splendor through a blending of historic architectural features with innovative design. Models of other Neutelings Riedijk's current and past projects will also be on view.
Long Time No See: Hidden Treasures from the Cincinnati Art Museum is on view June 28 through Aug. 31. Admission is free.
Presenting sponsors are Larry and Rhonda Sheakley Family Foundation and Western and Southern Financial Fund. Associate sponsors are Convergys and Sutphin Family Foundation.
Image: Mask Gorget; United States, found in Tennessee (late Mississippian culture); ca. 1300-1500; Marine conch shell (Busycon perversum); 7 15/16 x 6 13/16 x 2 3/16 in. (20.2 x 17.3 x 5.6 cm); Gift of Thomas Cleneay; 1887.20607