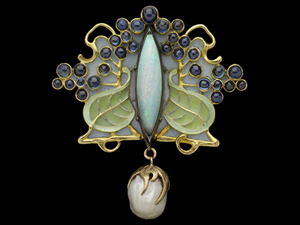 Discover the beauty of jewelry from the Art Nouveau movement at the Cincinnati Art Museum this fall. Selected from one of the finest American private collections, Imperishable Beauty: Art Nouveau Jewelry features over 100 works from France, Germany, Austria and the United States by the major designers and jewelers of the era, including René Lalique, Henri Vever, Philippe Wolfers and Tiffany & Co. Organized by the Museum of Fine Arts, Boston, the Cincinnati Art Museum will be the only other venue for the exhibition.
"Art and nature come together in these emblems of organic elegance," said Art Museum Director Aaron Betsky. "This was the time when jewelry reached its most refined point, a time when the elegance of couture and the excitement of the new world drew on centuries of craftsmanship to create dazzling examples of a wealthy culture."
Art Nouveau designers and jewelers found inspiration in the natural environment and the female figure. Using innovative techniques and materials, they created exquisitely detailed designs featuring sensuous forms, dramatic imagery and poetic symbolism. Many of the Art Nouveau jewelry pieces were created primarily as works of art rather than actual use.
"The Art Nouveau movement was a brief and intense moment of artistic design that was inspired in part by both the beauty and fierceness of nature. These are truly stunning objects and the exhibition masterfully presents differing interpretations of art nouveau across Europe and in America," said Cynthia Amnéus, Curator of Fashion Arts and Textiles.
The Cincinnati Art Museum's presentation of Imperishable Beauty: Art Nouveau Jewelry will also include a selection of related objects from the permanent collection, providing an in-depth look at the works that inspired Art Nouveau artists including textiles by William Morris, posters by Alphonse Mucha, Tiffany glass, American and European silver and Rookwood ceramics.
"By examining the jewelry within the context of objects from the permanent collection, our visitors will gain insight into what inspired these artists to make the choices they did in terms of subject material and materials and how they were trying to move beyond what had been done previously," said Cynthia Amnéus. "We invite the community to come and experience the beauty of these sophisticated, luscious objects."
Image: Brooch with an opal and pearl, about 1900; Louis Zorra (possibly born in Italy and working in Paris, dates unknown); Gold, silver, enamel, sapphire, opal, and pearl; Private collection; Photograph © Museum of Fine Arts, Boston