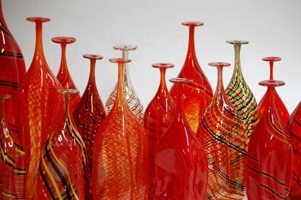 Second biennial Cincinnati Art Museum 4th Floor Award winner Darren Goodman breathes new life into glass, an art form steeped in tradition.  Expect to be mesmerized this fall by his first museum exhibition, Trial by Fire, which will open in the Sara M. and Michelle Vance Waddell Gallery on September 24, 2011.
The exhibition features new interpretations of existing series of works and will include the thirty-one year old artist's hanging glass installation Tears of Joy. "Goodman's work has a playful quality that stems from his theatrical take on glass blowing," notes Associate Curator of Contemporary Art , Jéssica Flores. "He imbues the physical process of glass blowing and his large-scale work with drama."
Members of the Cincinnati Art Museum's 4th Floor: Friends of Contemporary Art group selected Darren Goodman of  Waynesville Ohio as the 2011 Award winner.  The 4th Floor Award is a biennial regional visual arts competition, which began in 2009. Goodman caught the committee members' attention with his large scale glass work, notably, Tears of Joy, which he developed from a "mistake" of molten glass falling to the ground. Using the same action, he created massive glass drops up to 12 feet tall, which he suspended as a group inches above the floor.  In both his installations and sculptural pieces, Goodman utilizes the properties found solely in glass.   According Goodman,  "All the pieces have a common theme and play off of each other. All of these pieces work together, and it's kind of a metaphor of how we all (people) should work together to have the greatest impact."
As the award winner, Goodman received a monetary award and a solo exhibition at the Cincinnati Art Museum.   The Cincinnati Art Museum's biennial 4th Floor Award, is a regional artist competition.  Open to professional, non-student artists residing within twelve counties in the Greater Cincinnati area, the 4th Floor Award seeks to promote emerging artists in the tri state region.  The competition is juried by members of the 4th Floor, a friends group of the Cincinnati Art Museum.   
Darren Goodman:
Thirty one year-old Goodman earned his BFA from Bowling Green State University. He apprenticed with glass master Leon Applebaum in Corning, NY and studied with studio glass legends Lino Tagliapiertra and Dante Marioni. Ferrari North America commissioned Goodman to create trophies for International Challenge Races (2009).
Image: Darren Goodman (American), Vetrobottles (Ferrari), Glass, Courtesy of the Artist, L15.2011:3