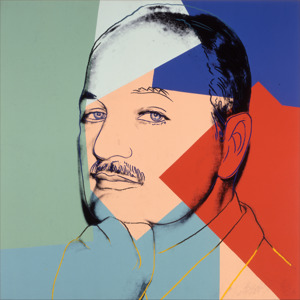 Douglas Schoolfield Cramer, arts supporter and contemporary art collector, has one of the television industry's most outstanding track records in the development and production of highly-rated primetime television programming, as network and studio executive, production company co-owner, and independent producer. He played a key role in over 3000 hours of TV from 1960 to 1998 – originating and executive producing numerous television movies, including the first TV mini-series, the multi-Emmy award winner, Leon Uris's QB VII, and such highly-rated award winners as The Best Little Girl in the World and twenty Danielle Steel novels. He also created, developed, supervised, and/or executive produced many long-running hit series including Dynasty, Love Boat, Batman, Peyton Place, The Odd Couple, Mission Impossible, Love American Style and Star Trek.

Recognized as a noted collector of contemporary art since the early 1970s, Cramer has been a fixture on the top Collectors list since the early 80s. His Foundation contained a permanent exhibition space of 12,000 square feet in the Santa Ynez Valley adjacent to his vineyards. A founder of the Los Angeles Museum of Contemporary Art, he was elected to the Board of Trustees in 1983, becoming President for several years in the early 1990s. Now a lifetime trustee of New York's Museum of Modern Art, he was Chairman of the Museum's Painting and Sculpture for six years. He has received many awards from television and the art world, including numerous Golden Globes, the Leo Castelli award, the Smithsonian's Archives of American Art award and New York City Center's Fiorello H. LaGuardia Award.

Born in Louisville, Kentucky, Cramer is the son of Douglas Schoolfield Cramer, Sr., and the former Pauline Compton, known as Polly Cramer, long-time writer of the syndicated column Polly's Pointers. Moving to Cincinnati, Ohio at age eight, he attended school in Hyde Park and Walnut Hills High School, then went on to Northwestern, the University of Cincinnati, and the Sorbonne, Paris; he received his MFA from Columbia University in NY.
The Cincinnati Art Award has been established by the Cincinnati Art Museum to honor a Cincinnatian who has had a significant impact on our culture at a national and international level through the making, collecting, or promoting of visual art.
Image: (detail) Andy Warhol, Portrait of Doug Cramer, 1985, synthetic polymer paint and silkscreen on canvas, 40 x 40 inches, Collection of Douglas S. Cramer, © 2011 The Andy Warhol Foundation for the Visual Arts / Artists Rights Society (ARS), New York, Photo courtesy of Douglas S. Cramer