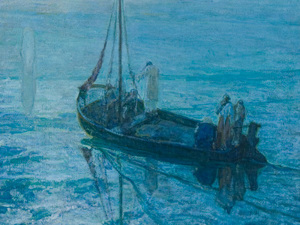 More than one hundred works, from paintings to sculpture, are featured in this major exhibition devoted to the acclaimed artist Henry Ossawa Tanner (1859–1937). The exhibition follows Tanner's personal journey to explore his work from many facets: the impact of his upbringing and education as a young African American in Philadelphia in the years after the Civil War; his success as an American expatriate artist at the highest levels of the international art world at the turn of the 20th century; Tanner's role as a leader of an artist's colony in rural France; and his contributions in aid of American servicemen to the efforts of the Red Cross during WWI. Landscapes, portraits and luminous street scenes from Tanner's visits to the Holy Land and Near East are included in this exhibition, which highlights his invigoration of religious painting, an endeavour deeply rooted in his own faith. Organized by the Pennsylvania Academy of Fine Arts, this exhibition is the second stop on a three-city tour and is accompanied by both a major catalogue and a children's book by renowned artist Faith Ringgold.
Henry Ossawa Tanner: Modern Spirit was organized by the Pennsylvania Academy of the Fine Arts, Philadelphia, PA
Exhibition Presenting Foundation sponsors:
The Terra Foundation for American Art
The Henry Luce Foundation.
This exhibition has been made possible in part by the National Endowment for the Humanities: Because democracy demands wisdom. Any views, findings, conclusions, or recommendations expressed in this exhibition and publication do not necessarily represent those of the National Endowment for the Humanities.
Leading support from the Mr. & Mrs. Raymond J. Horowitz Foundation for the Arts, Inc.



Image: Henry Ossawa Tanner (American, b.1859, d.1937), Miraculous Haul of Fishes, 1913, oil on canvas, Lent by the National Academy of Design, New York, L10.2000