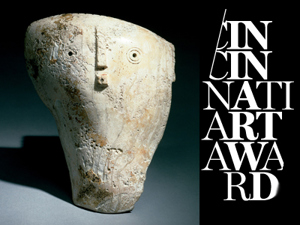 On April 26, 2013, Emily Rauh Pulitzer received the Cincinnati Art Award, an honor bestowed upon an individual who has had a significant impact on a national or international level through the making, collecting, or promoting of visual art. Pulitzer is the guest curator for Memories: Some Favorite Objects, An Exhibition Selected by Emily Rauh Pulitzer which will be on view April 26 through August 11, 2013. The exhibition crosses geographic and temporal boundaries and evokes her memories of visiting the museum beginning during her childhood as well as the longtime involvement of her family with this institution.
A distinguished collector, philanthropist, museum curator, and native Cincinnatian, Emily Rauh Pulitzer is known internationally as a champion of modern and contemporary art. She is the founder and chair of the Pulitzer Foundation for the Arts, a cultural institution in St. Louis. The Pulitzer Foundation for the Arts, whose building was designed by Pritzker Architecture Prize winner Tadao Ando, has offered numerous exhibitions and programs that promote a deeper understanding and appreciation of the arts and architecture. Pulitzer's choice of Ando as architect for the foundation was informed by her experiences in her childhood home in Woodlawn. In 2010, Pulitzer bought the 1938 John Becker designed house commissioned by her parents, Frederick and Harriet Rauh. The white cinderblock and brick house with large windows and simple lines—widely considered Becker's residential masterpiece and one of the first modern houses in the region—had been abandoned, stripped, vandalized and slated to be destroyed. In partnership with the Cincinnati Preservation Association, Pulitzer provided for its restoration.
On April 24th and 25th, the Cincinnati Preservation Association will celebrate the gift and the restoration of the Rauh House by hosting "Preserving Modern Architecture," a symposium which will be held at the house. The impressive roster of speakers includes a keynote address by Pulitzer Prize winning author, and architecture critic, Paul Goldberger. The first day of the symposium will focus on identifying the Modernist legacy, the forces that shaped it, the design objectives of pioneers, and the defining characteristics. Day two will explore conserving the legacy by reviewing current preservation work throughout the Midwest, challenges to saving modern architectural landmarks, and emerging opportunities for preservation. Attendees will also enjoy a rare opportunity to visit Frank Lloyd Wright's Tonkens House and Boulter House, as well as Greenhills.
The symposium, as well as the exhibition at the Cincinnati Art Museum, will celebrate Emily Rauh Pulitzer's extraordinary vision and her commitment to modern and contemporary art and architecture.
Image: Mask-Gorget, Mississippian, 1000 CE-1500 CE, conch shell (Busycon perversum species), Gift of Thomas Cleneay, 1887.20607