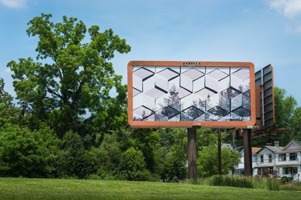 Big Pictures is a yearlong public exhibition that features photographs by artists on billboards across Greater Cincinnati. Organized by Brian Sholis, Associate Curator of Photography at the Cincinnati Art Museum, this exhibition presents captivating images by photographic artists working around the world. Through thirty-six billboards by eighteen local, national, and international artists, Big Pictures will sample the diverse approaches to photography taken by contemporary artists.
Visit www.bigpicturescincy.org for billboard loactions and additional information.
Big Pictures is generously sponsored by:
Marty and Nick Ragland
The Friends of Photography at the Cincinnati Art Museum
Image: Dawoud Bey, Deas McNeil, The Barber, 1976. Courtesy of the artist and Stephen Daiter Gallery, Chicago.
*This portrait of The Barber will be presented on Reading Road, just north of the Norwood Lateral near the St. Aloysius Orphanage from June 1 through mid July, 2014.