Cries in the Night: German Expressionist Prints around World War I
June 21, 2014 - August 17, 2014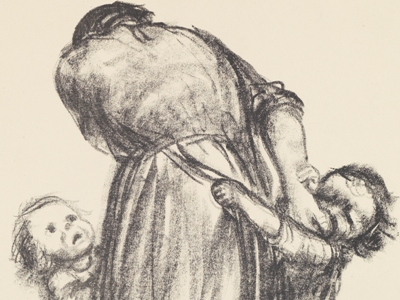 Expressionism developed during a period of intense social and aesthetic transformation in Germany and Austria. This exhibition of prints traces the avant-garde and the concurrent renaissance in the graphic arts, particularly printmaking, with the founding of the Brücke in 1905. It charts the devastating and transformative impact of World War I and its aftermath upon these artists' careers, and includes art made during the early years of the Weimar Republic. Among the German printmakers featured are Erich Heckel, Ernst Ludwig Kirchner, Georg Macke, Käthe Kollwitz, Max Beckmann, Max Pechstein, and Otto Dix.
Cincinnati Remembers WWI
This exhibition is presented as part of "Cincinnati Remembers WWI," a citywide series of events commemorating the centenary of the First World War and anticipating Cincinnati Opera's production of the Pulitzer Prize-winning opera Silent Night in July 2014. For more information, please visit www.cincinnatiopera.org/WWI.
Image: Käthe Kollwitz (German, b.1867, d.1945); Bread! (Brot!) (detail), 1924; lithograph; Gift of Herbert Greer French; 1940.327