8th Biennial Celebration
Celebrate the Cincinnati Art Museum's fine art collections highlighted with 70 varied floral interpretations and special events.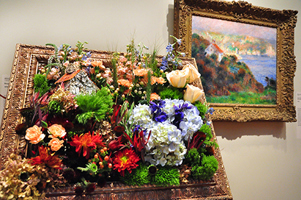 Over four days, experience the beauty of glorious fresh flowers paired with the Cincinnati Art Museum's fine art collection. Take part in many and varied special events, family friendly activities, docent-led tours, plus conversations and demonstrations by curators and floral arrangers. This year Art in Bloom is highlighting the Cincinnati Public Schools' art collection at the Cincinnati Art Museum.
If you have any questions, please contact Development Events Manager Tiffany Payne-Bush at (513) 639.2962 or [email protected].
Art in Bloom is free to attend. Special event pricing may vary.