30 Americans
March 19, 2016 - August 28, 2016
Galleries 124, 151, 212, 232 & 233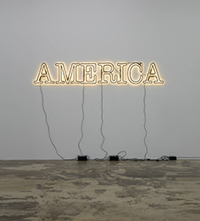 30 Americans showcases art by many of the most important African-American artists of the last three decades. This provocative exhibition focuses on issues of racial, gender, and historical identity in contemporary culture while exploring the powerful influence of artistic legacy and community across generations. The works are drawn primarily from the Rubell Family Collection.
Due to the powerful subject matter, the Cincinnati Art Museum encourages adults to preview the exhibition before bringing children. Additionally, visitors are encouraged to take photos in 30 Americans provided that no flash, tripods, monopods, or selfie sticks are used. We encourage you to share your reflections on social media using the hashtag #CAM30.
As a complement to the 30 Americans exhibition, the Art Academy of Cincinnati and the DAAP Galleries, University of Cincinnati have collaborated on the presentation of 30 Americans Plus . . . The Region. This exhibition, in two parts, recognizes the wide range of visual expressions offered by African-American artists in our community. Featuring work in a wide range of media and materials, the perspectives of current practitioners will be accompanied by seminal figures from the past three decades. The work exhibited by these accomplished regional artists contributes to the conversation about African-American experiences and heritage, and the present state of the arts in the region. The exhibitions will open on June 8 at the Art Academy of Cincinnati and June 9 at the DAAP Galleries, University of Cincinnati.
The Forum for 30 Americans
May 21, 2016 - August 28, 2016
A community resource room to provide space for repose and reflection. Located in Gallery 125.
This exhibition is generously supported by:

Header Image: Glenn Ligon (American, b.1960), America, 2008, neon sign and paint. Courtesy of the Rubell Family Collection, Miami. © Glenn Ligon