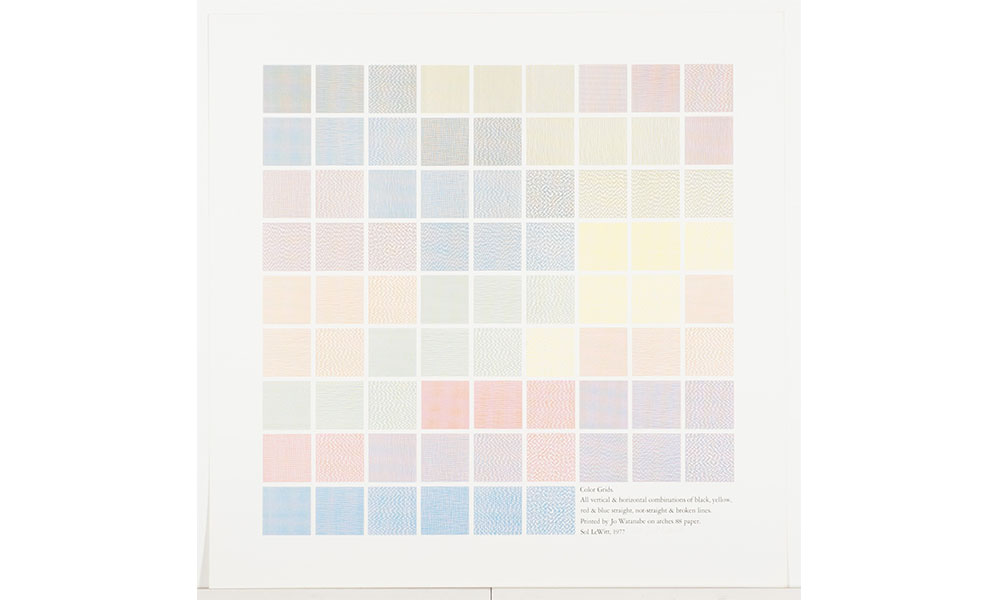 Etel Adnan (p.4)
Sol LeWitt (1928–2007), Color Grids: All Vertical + Horizontal Combinations of Black Yellow, Red + Blue Straight, Not-Straight + Broken Lines., 1977, four color screen print, Gift of RSM Co., 1985.355, © 2020 Artist's Rights Society
Art can be a way to visually depict the world around us, but it can also represent the unseen or abstract thought. This is known as conceptual art. Many of the prompts in do it (home) fall into this category and the Cincinnati Art Museum's collection holds many examples. This print by Sol LeWitt has the instructions in the title. What you see is the result of that idea. Compare this to your Etel Adnan-inspired art-making process. What is similar? What is different?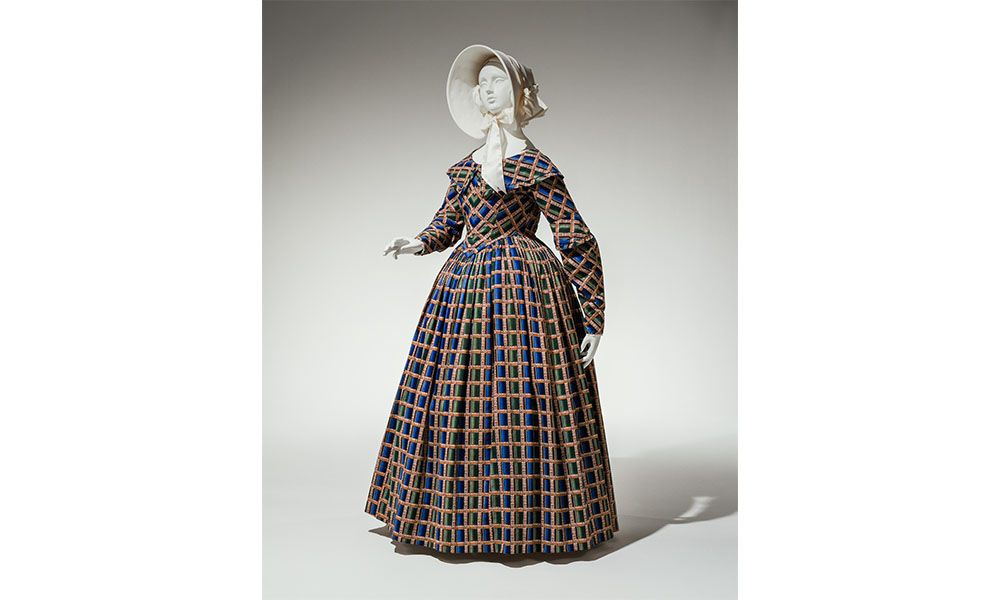 Etel Adnan (p.4)
England, Day Dress, 1841–1843, cotton, Museum Purchase with funds provided by Mrs. Norman R. Gardner, 1990.11
Two-dimensional art can come to life when placed on a three-dimensional form. Vibrant patterned fabrics were particularly popular for women's clothing of the 1830s through the mid-nineteenth century, such as the ombré grid pattern on this 1840s dress, reminiscent of Etel Adnan's grid-making prompt. What can you turn your rainbow pattern into?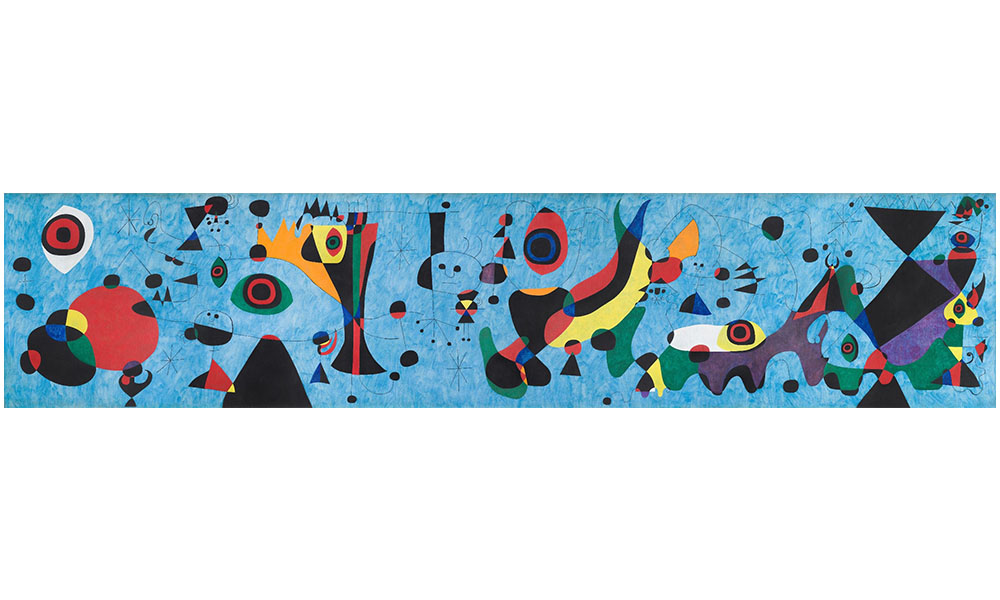 Greta Bratescu (p.11)
Joan Miró (1893–1983), Spain (active United States), Mural for the Terrace Plaza Hotel, Cincinnati, 1947, oil on canvas, Gift of Thomas Emery's Sons, Inc., 1965.514, © Successió Miró / Artists Rights Society (ARS), New York / ADAGP, Paris 2016
Greta Bratescu's prompt is a reflection on the world around her as she imagines her studio as a collection of lines and dots. Similarly, Joan Miró's mural for the Terrace Plaza Hotel in Cincinnati, now across from the Terrace Café at the Cincinnati Art Museum, was created to immerse viewers in space through lines, shapes, and color. Follow Bratescu's prompt to recreate your surroundings as lines and dots.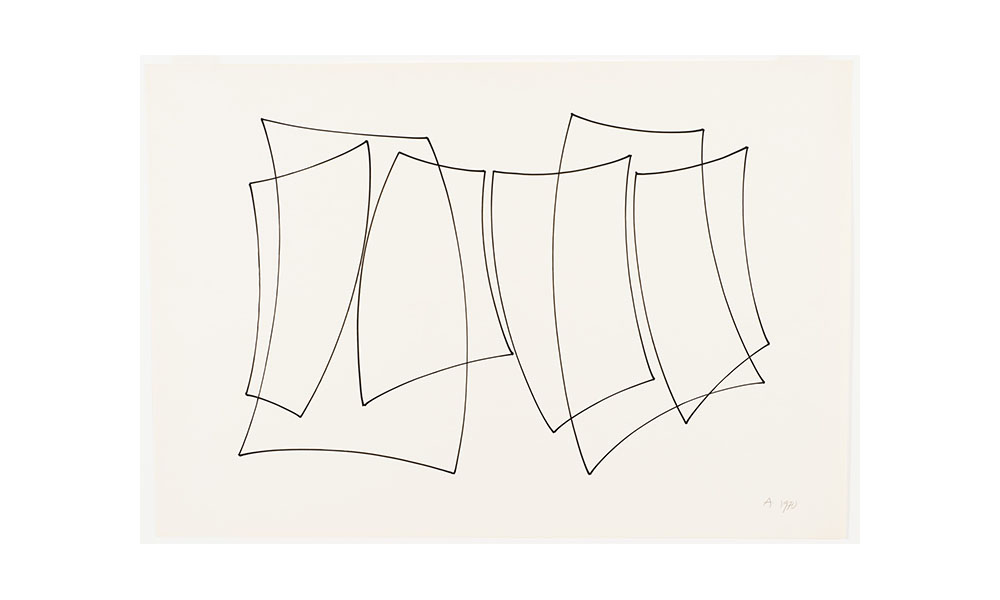 Greta Bratescu (p.11)
Anne Rittershofer-Neumann (b. 1936), Line Going for a Walk No, 2 (large), 1970, pen and black ink, Gift of the Artist in memory of her sons, John Peter Neumann and Christopher Swing Neumann, 1984.174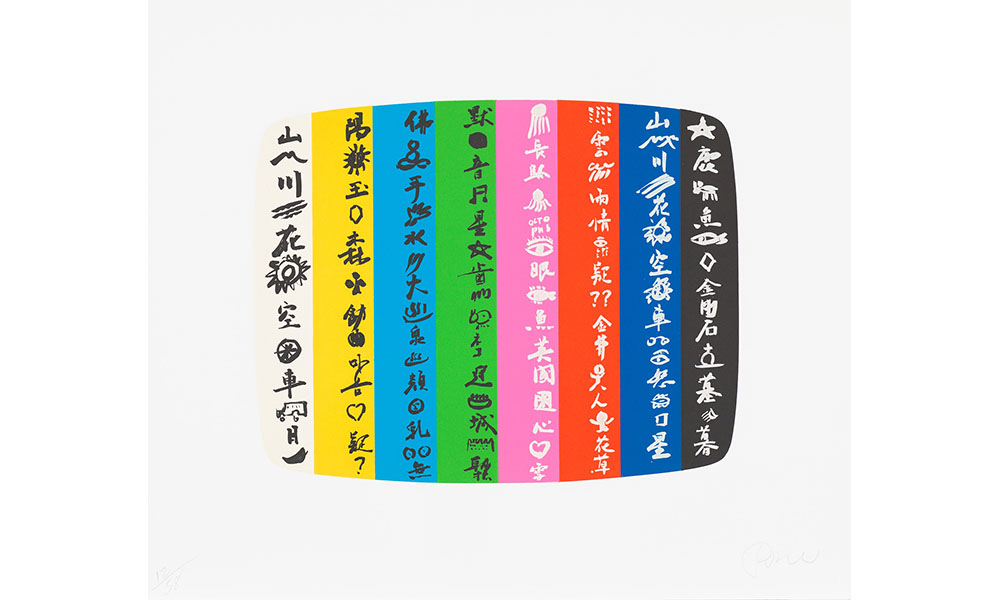 Critical Art Ensemble (p. 12)
Nam June Paik (1932–2006), United States, Rosetta Stone, 1984, color photo etching, The Irwin and Judith Hanenson Collection, 2009.224.7, © 2020 Artist's Rights Society
The original Rosetta Stone was the key to translating ancient Egyptian hieroglyphics into modern languages. Nam June Paik's Rosetta Stone calls to mind this idea as we view our televisions. Modern media has created its own language with images instead of words. The Critical Art Ensemble's third project asks you to distort the color settings on a TV and take a photo of it. What does your image communicate?
Torkwase Dyson (p. 16)
Nancy Storrow (b. 1946), United States, Untitled, 1992, photocopy, Gift of A.I.R. Gallery, 1993.126.15, © 2020 Artist's Rights Society
Sometimes, it's more satisfying to scribble than to draw something specific. Your hand may be guided by your feelings rather than by intent. Try Torkwase Dyson's 99-second drawing. How do you feel while you are making your art?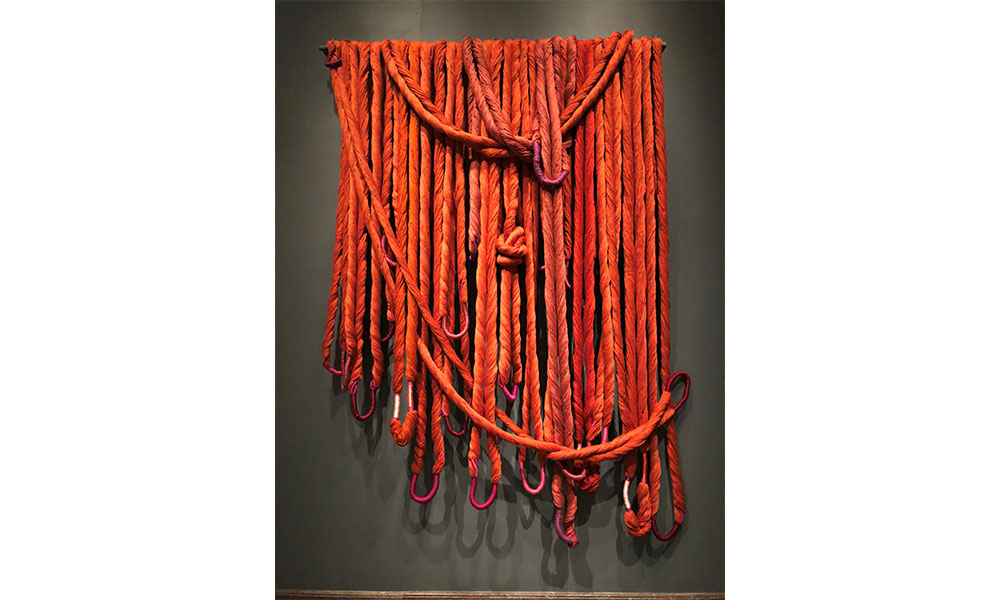 Tracey Emin (p. 17)
Sheila Hicks (b. 1934), France, Untitled Tapestry, 1971–1972, linen, synthetic raffia, pearl cotton, silk, Gift of Mr. and Mrs. Gilbert Weil, 1993.6
Sheila Hicks's Untitled Tapestry is made up of a series of yarn loops that can be arranged in an infinite number of ways. Bundles can hang straight down or be draped over, under, and through other loops. Heights can be changed and varied to create different compositions. Just as your eyes follow the twists and turns of Hicks's tapestry, follow the movement of your own Tracey Emin-inspired web. What does it feel like to move in and around your artwork?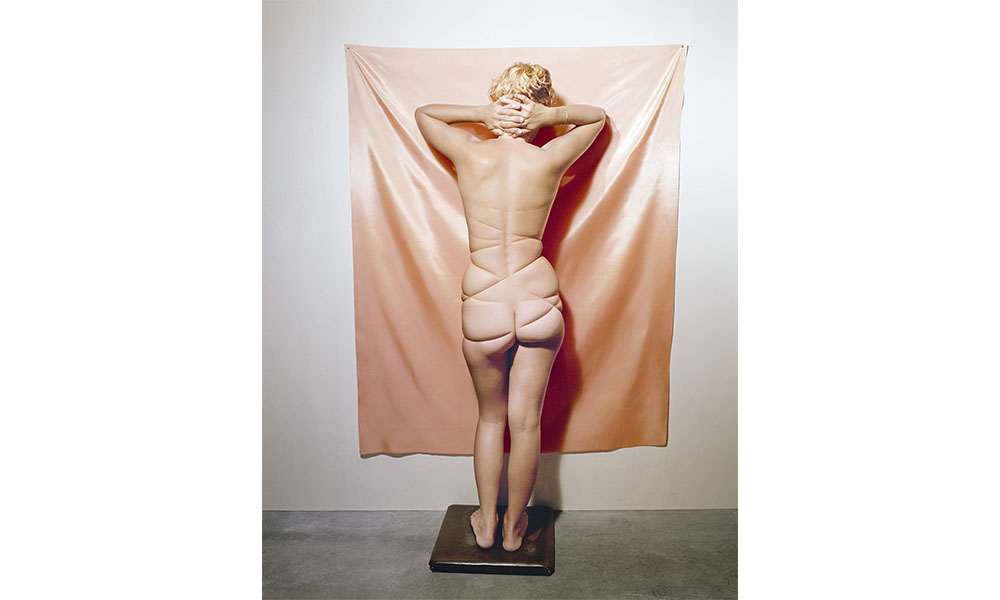 Tracey Emin (p. 17)
Jo Ann Callis (b. 1940), United States, Nude Facing Wall, 1976–77, printed 2014, inkjet print, Museum Purchase: FotoFocus Art Purchase Fund, 2016.26, © Jo Ann Callis
Tracey Emin asks you to wrap red string around a spread of twenty-seven bottles, creating a web-like structure. In Jo Ann Callis's Nude Facing Wall, a live model is tightly wrapped in string, making a statement about the relationship between the female form and power. What does this mean to you? Now, look at and reflect on your own web. Does it signify anything to you?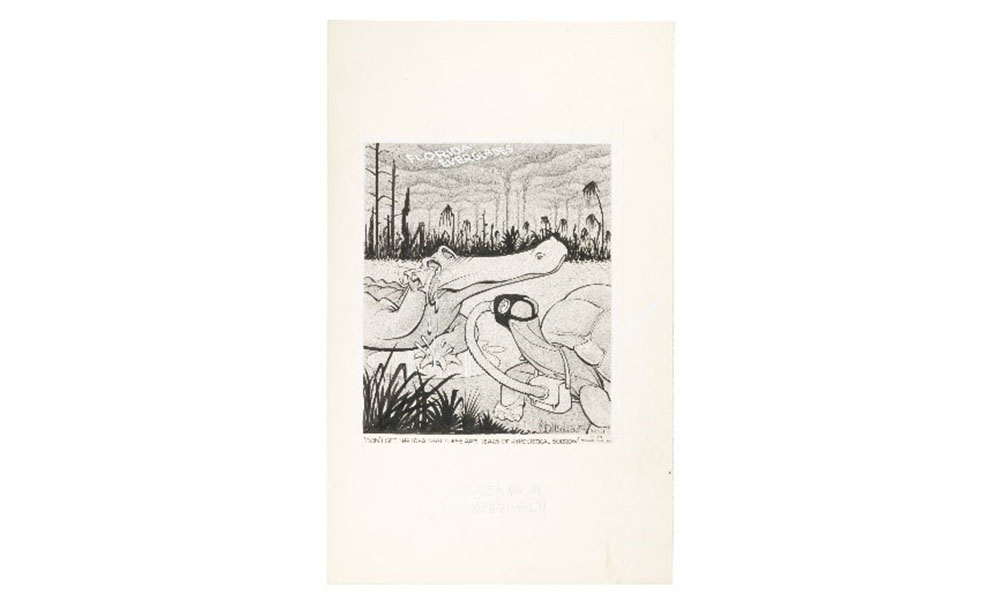 Simone Forti (p. 19)
L. D. Warren (1906–1992), United States, 'Don't Get the Idea That These Are Tears of Hypocritical Sorrow!', 1971, pen and brush with black ink, black crayon, and white gouache, Gift of Julianne Warren, 1999.592
The COVID-19 pandemic has brought the use of protective face coverings to the forefront of our minds. Masks vary depending on their function, and include respirators, gas masks, and full face shields. Many of us have had to think outside the box to create our own homemade masks. Simone Forti suggests using culottes. While most English-speakers think of culottes as short, flowing trousers, the term in French actually refers to panties. What else could you use as a mask?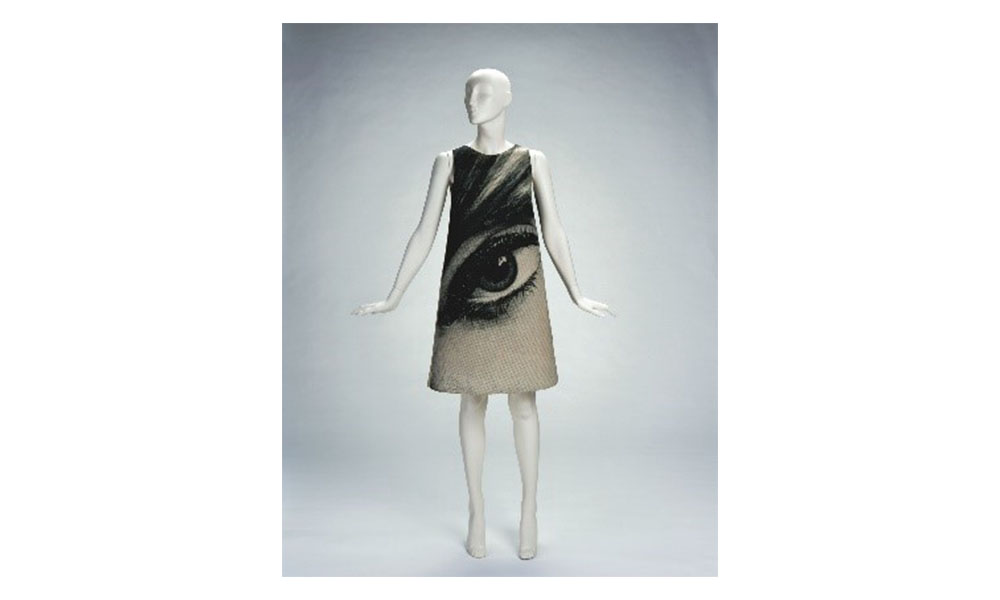 Simone Forti (p. 19)
Harry Gordon (1930–2007), Poster Dresses, Ltd (active 1960s), United States, Poster Dress, 1968, screenprinted tissue, wood pulp, rayon mesh, Museum Purchase: Lawrence Archer Wachs Fund, 2001.154
Paper dresses were a short-lived fad during the late 1960s. They were inexpensive and disposable, which made them an ideal canvas for fun imagery, such as this example with an oversized close-up of a model's eye. Similarly, T-shirts have been a mainstay for many to communicate their interests and views. And now masks are another expressive garment. What does your mask convey about yourself?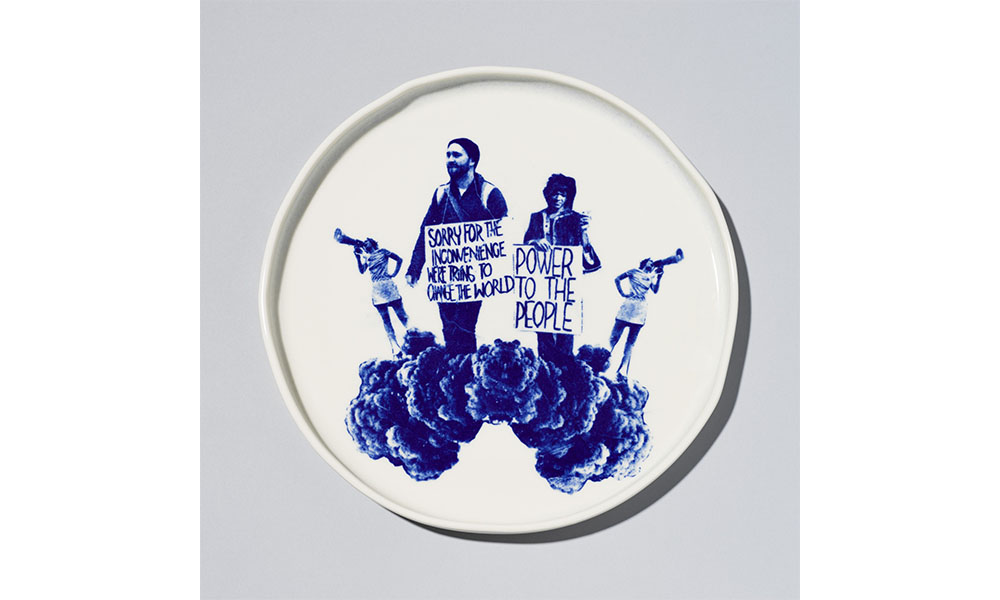 Lucy R. Lippard (p. 26)
Protest Platter, 2020, Terence Hammonds (b. 1976), Breakfront Pottery (estab. 2017), Wave Pool (estab. 2014), Monica Andino (b. 1988), Pedro Moreno (b. 1953), Erika Nj Allen (b. 1969), Adriana Prieto Quintero (b. 1981), glazed ceramic with transfer print, Museum Purchase with funds from the Friends of African American Art, 2020.37
Artist and activist Lucy R. Lippard asks us to step outside of traditional art spaces and do something relevant and radical. Terence Hammonds' Protest Platter places scenes of historical protest onto a functional serving dish. According to Hammonds, "I like to think of the platters as maybe having the reverse function of a 'mammy jar.' Whereas 'mammy jars' would reiterate racist stereotypes in subtle innocuous ways, I wanted the platters to remind us of the social struggles and the people who fought for change, and [who] empower us to keep up that fight in our daily lives." How will you respond to Lippard's call to change the world?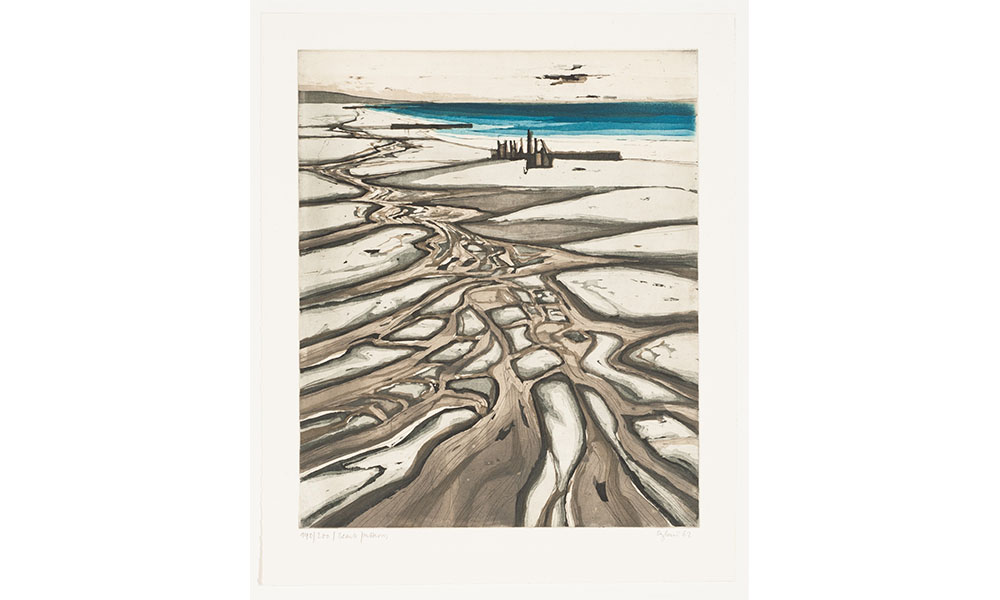 Cildo Meireles (p. 27)
Otto Eglau (1917–1988), Germany, Beach Patterns, 1962, color etching and aquatint, Gift of Charles and May Westheimer, 1990.1955, © 2020 Artists Rights Society (ARS), New York / VG Bild-Kunst, Bonn
Nature is a powerful force. Water can carve through rocks and forge new pathways. Wind can shift deserts and beaches into dunes and valleys. The beauty of these processes can be seen in Otto Eglau's Beach Patterns. David Meireles wants you to shape the sand by digging a hole and silently reflect as you witness nature changing your creation. What do you feel as you watch the water and wind reshape the hole you dug?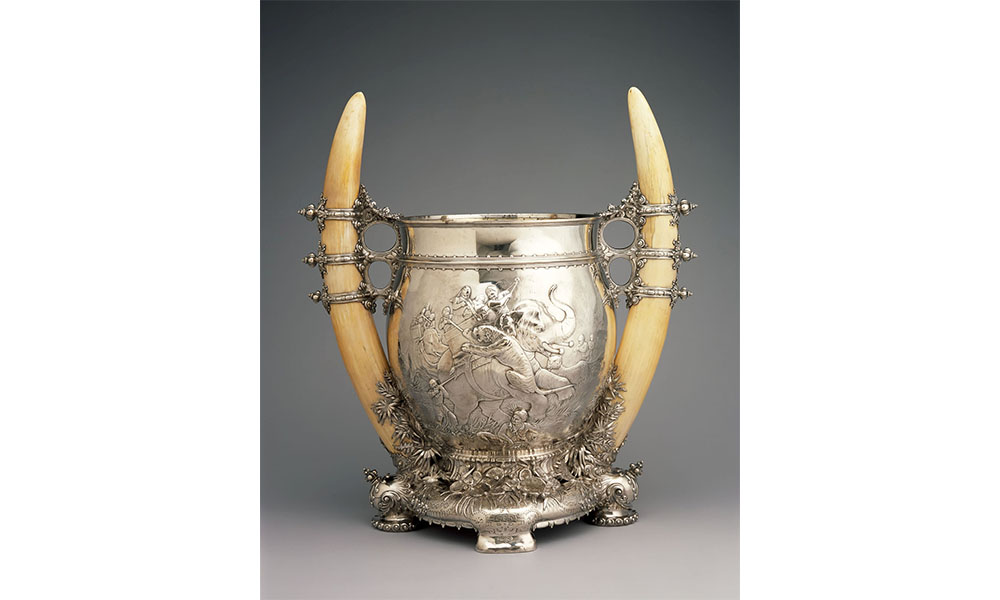 Cildo Meireles (p. 27)
Loving Cup, 1893, Tiffany & Co. (estab. 1837), Joseph Aranyi (b. 1863), Brossman, Indelkohfer, Heitman, Kleinfelder, Frank Malsch (b. 1862), Bernard Strassberger, John Curran (1859–1933), silver, gold gilt and ivory, Gift of Mr. and Mrs. Charles Fleischmann III, 2004.9
Throughout history and amongst many diverse cultures, silver has been seen as having mystical properties. This silver loving cup made by Tiffany & Co. seems a fitting vessel to drink from after Cildo Meireles's suggested twelve-hour fast. What would you drink from?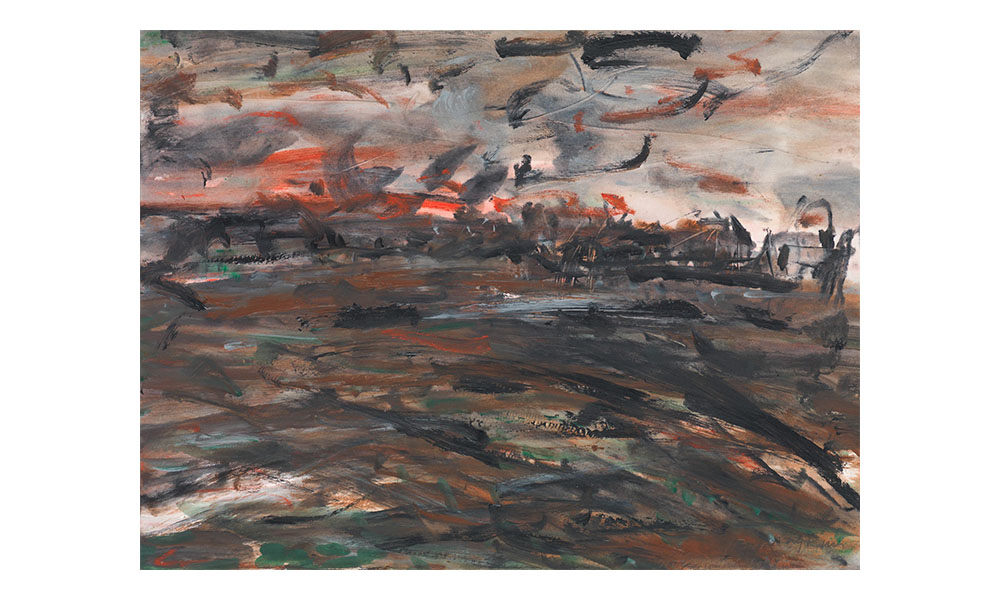 Albert Oehlen (p. 29)
Bukang Kim (b. 1943), United States, Brownfield 2, 2003, acrylic, Gift of the Artist, 2005.730, © Bukang Kim
Albert Oehlen's Instructions To Make A Good Painting begin with two methodical steps: arrange your paint tubes and brushes in a logical way. Then he subverts the process by having you flip your canvas upside down and paint without thinking. You are then invited to step back, reflect on what you like, and cover up what you do not like, repeating until you have "the greatest painting that ever has been painted."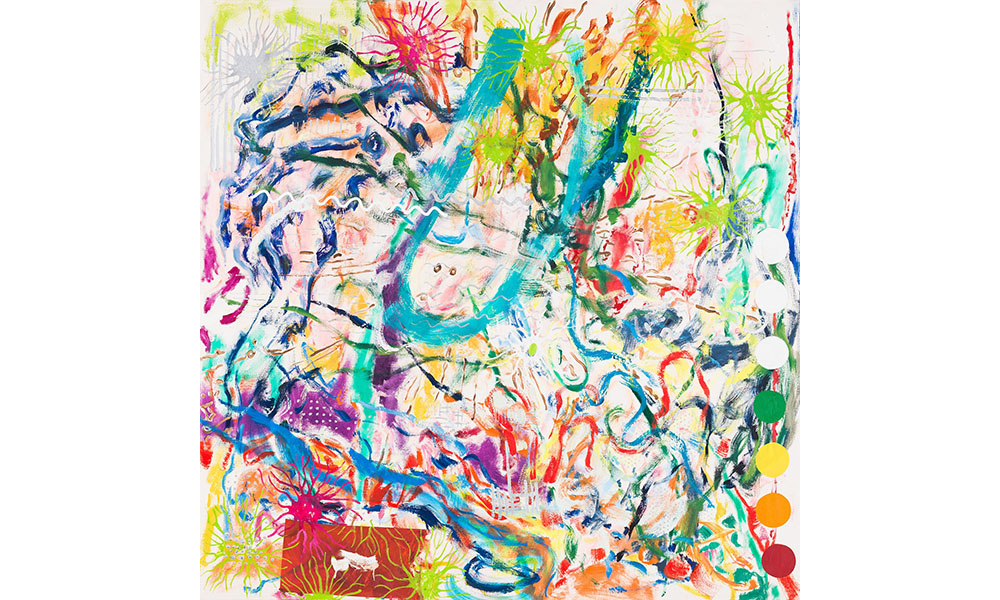 Albert Oehlen (p. 29)
Nancy Graves (1939–1995), United States, Strobia, 1978, oil and encaustic on canvas, Gift of Ronnie and John Shore, 2018.195, © 2019 Nancy Graves / Licensed by VAGA at Artists Rights Society (ARS), New York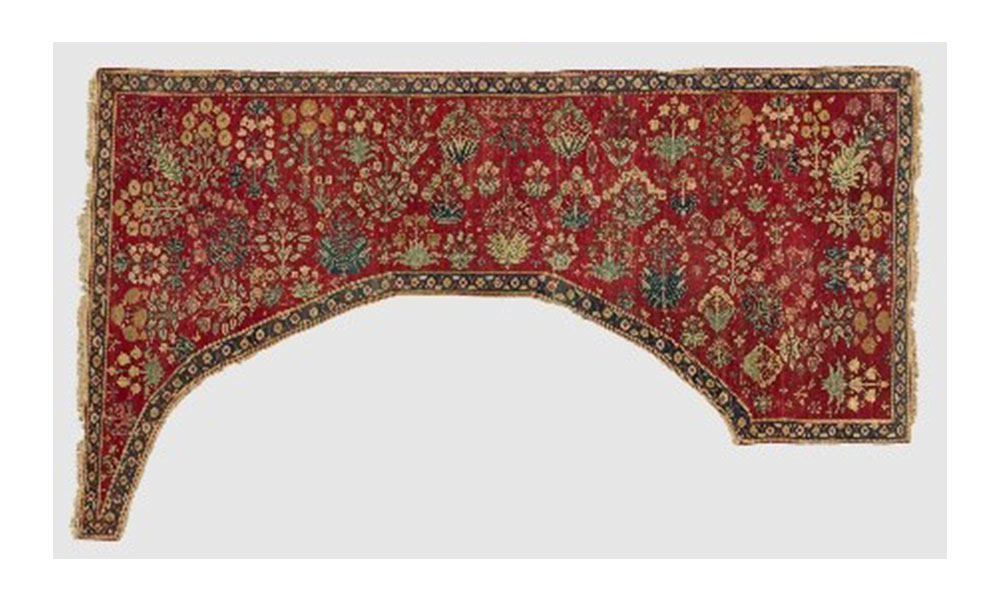 Precious Okoyomon (p. 30)
Shaped Carpet, c. 1640–50, India (poss. Rajasthan, Jaipur), wool pile on cotton and silk foundation, Gift of Mrs. Audrey Emery, 1952.201
Precious Okoyomon asks us to reflect on our fears. Instead of succumbing to them, we burn them and create something beautiful from their ashes. We are to do this process again and again until we have planted not just one plant, but an entire garden. Cultures across time have used gardens as places for contemplation. They have even decorated their interior spaces with designs from nature to bring the outside in, such as this seventeenth-century Indian carpet strewn with a variety of flowers. What would your garden look like?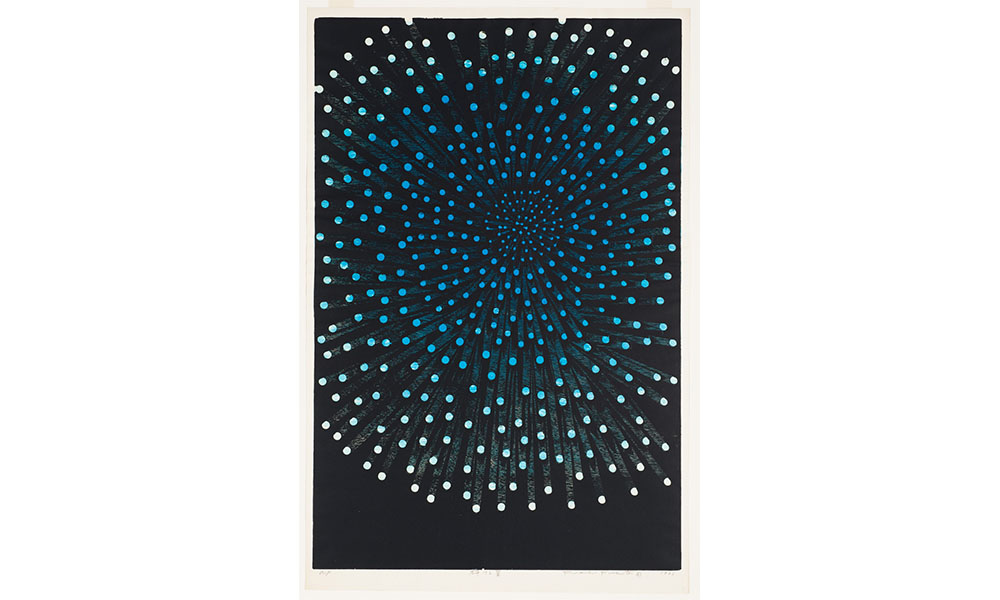 Christodoulos Panayiotou (p. 32)
Fumiaki Fukita (b. 1926), Japan, Exploding Star, 1966, color woodcut, Irwin and Judith Hanenson Collection, 1999.197
Humans have been gazing at the stars as long as we have existed. As we look upward, we create stories drawn across the sky. These myths are told through the constellations, stars grouped together to form characters, and characters connected to each other to form greater stories. Christodoulos Panayiotou has given you the power to create your own stars on your brow. What constellations do you see?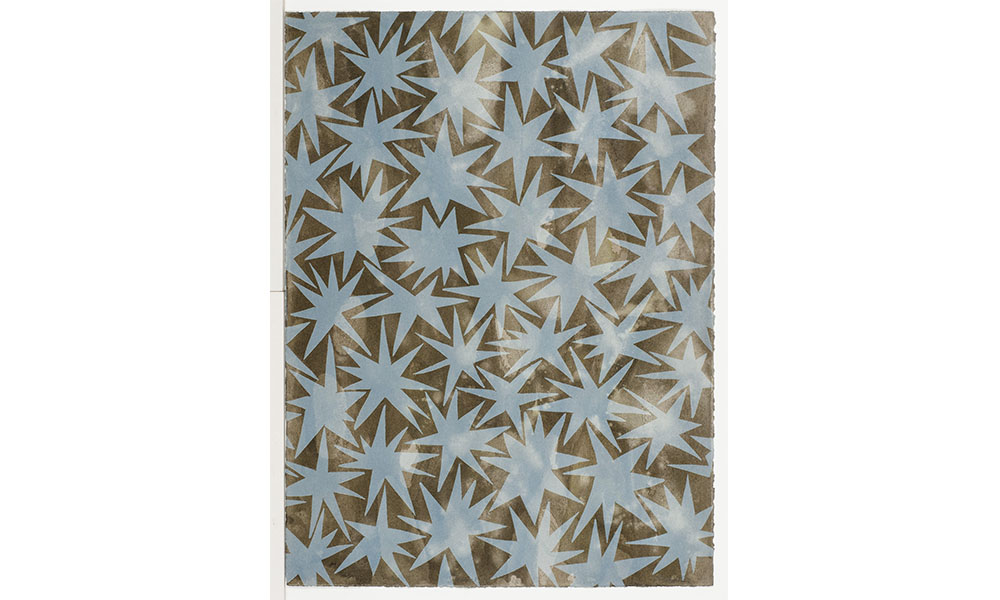 Christodoulos Panayiotou (p. 32)
Mark Fox (b. 1963), United States, Starry New Morn, 2003, relief print on hand colored paper, Gift of the Cincinnati Graphic Arts Forum, 2003.288.5, © Mark Fox 2003, © Mark Patsfall Graphics, Inc.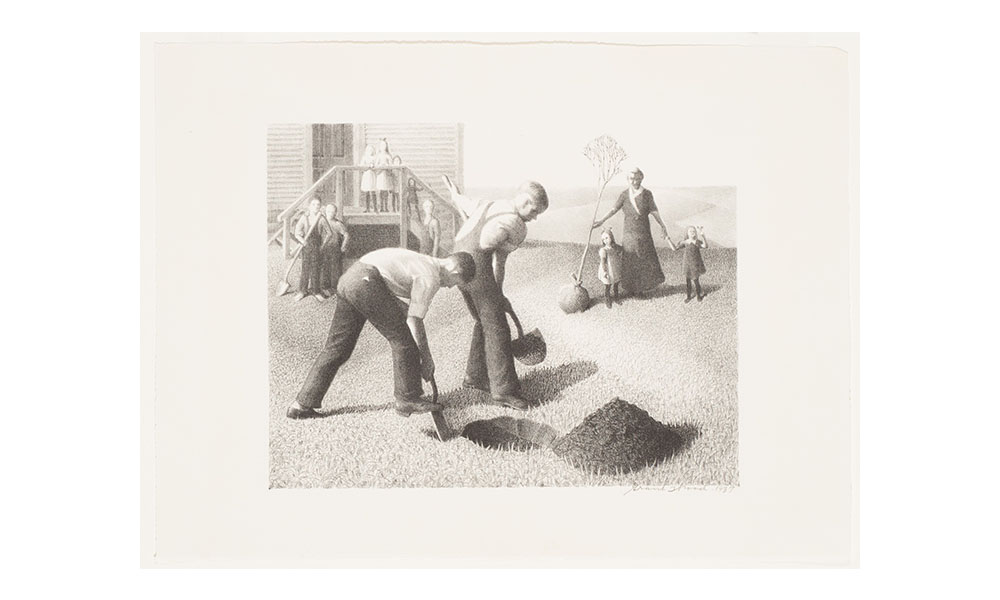 Thao Nguyen Phan (p. 34)
Grant Wood (1891–1942), United States, Tree Planting Group, 1937, lithograph, Gift of Dr. Robert Horton, 1969.179, © 2020 Artist's Rights Society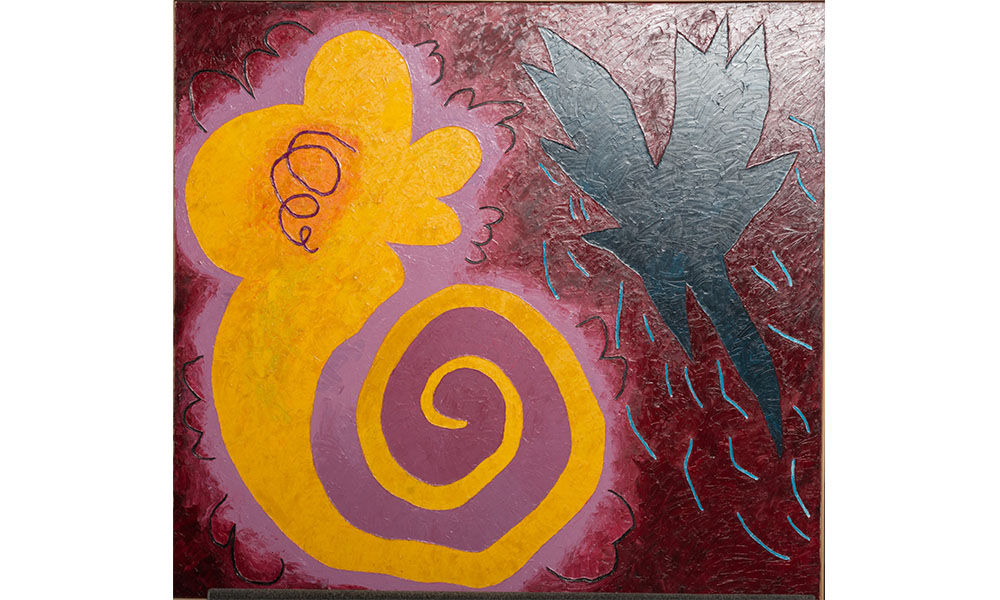 Thao Nguyen Phan (p. 34)
Louisa Chase (1951–2016), United States, Seed, 1978, oil on canvas, Gift of Ronnie and John Shore, 2006.91, © Estate of Louisa Chase
Thao Nguyen Phan's Dig a Hole, Plant a Seed is a recognition of the beauty of life cycles. By cultivating nature, tilling the ground, and planting seeds, we have the power to encourage new life and watch it grow. Likewise, we encourage you to follow Phan's steps, plant a seed, and watch it grow. Use that time to reflect on the beauty of the process.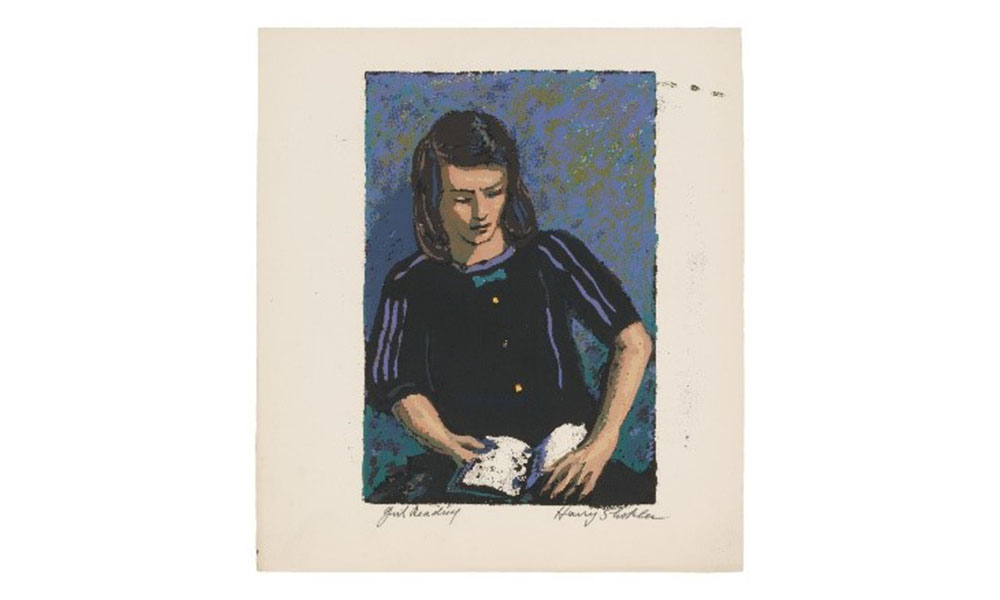 Raqs Media Collective (p. 36)
Harry Shokler (1896–1978), United States, Girl Reading, 1946, color screen print, Gift of Shokler Family, 1999.141 © The Family of Harry Shokler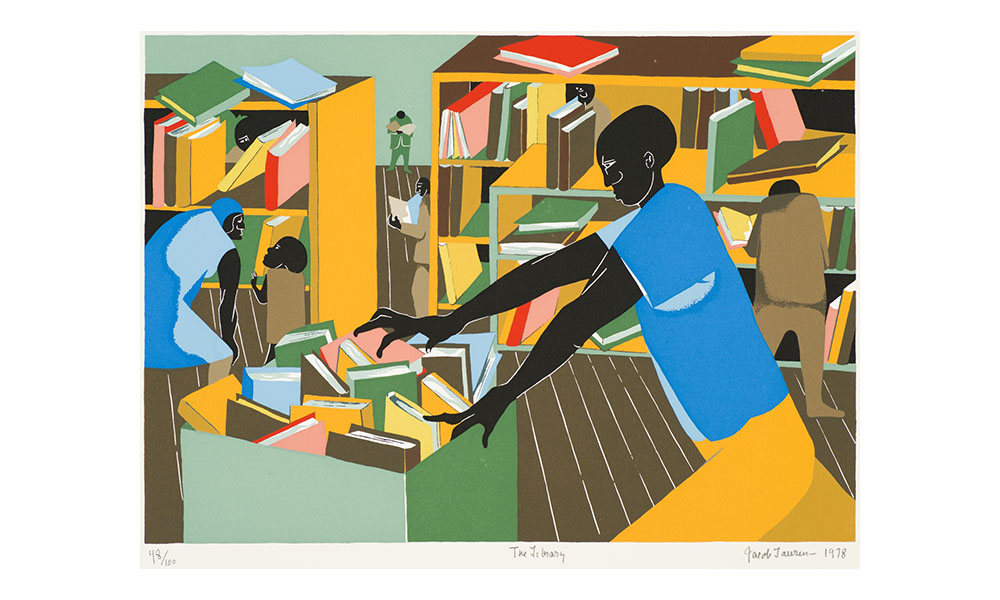 Raqs Media Collective (p. 36)
Jacob Lawrence (1917–2000), United States, The Library, 1978, color screen print, Museum Purchase with funds provided by The Champion & Partners Acquisition Prize in honor of Richard Hamilton, 2015.189, © 2020 Artist's Rights Society
As you walk down the aisles of your local library or bookstore, you might find yourself undecided on what book to read. You scan the titles printed on the spines and imagine what stories that book contains. Raqs Media Collective is putting the power in your hands to create the titles and imagine the stories inside.