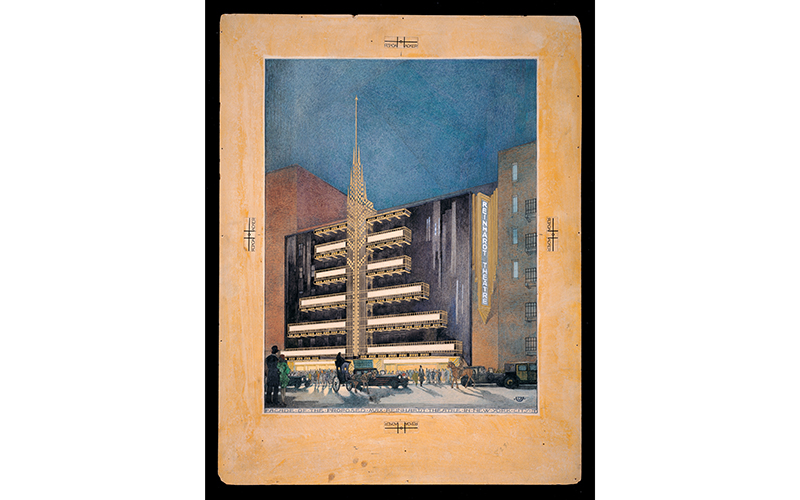 Joseph Urban (American, b. Austria, 1872–1933), Façade of the Proposed Reinhardt Theatre in New York City 1928, watercolor, Joseph Urban Archive, Rare Book & Manuscript Library, Columbia University
---
Transcript
Hello, my name is Destiny Brown and I am a Visitor Services Assistant at the museum. I will be reading the Architecture and Interior Design section in Unlocking an Art Deco Bedroom by Joseph Urban.
Joseph Urban's family expected him to become a lawyer. In an act of disobedience, he spent his law school tuition on art courses. Eventually, Urban's father agreed that his son could study architecture. Urban pursued this training at Vienna's Academy of Fine Arts, where he studied with the influential modern architect Otto Wagner.
Urban became licensed to practice architecture in the United States in 1926. With earnings from his film and stage work, he established his Manhattan architectural office. From there, he designed homes, buildings, and spaces in New York and beyond in a range of styles. Architecture presented the opportunity for Urban to leave a more permanent mark, unlike his ephemeral stage creations.
Urban tackled this work with the same Gesamtkunstwerk (total work of art) approach that he applied to all his projects. In addition to creating the structure or framework for a project, Urban wrote, "I do all the decorating and ornamentation myself. Frequently I select the furniture and the fittings, personally, and I should even like to choose not only the people who live in my houses, but the clothes they wear and the things they do. Then I would be certain to exclude all jarring notes."
This small selection of Urban's architectural drawings highlights projects that took place around the same time as or relate closely to the Wormser Bedroom.
---