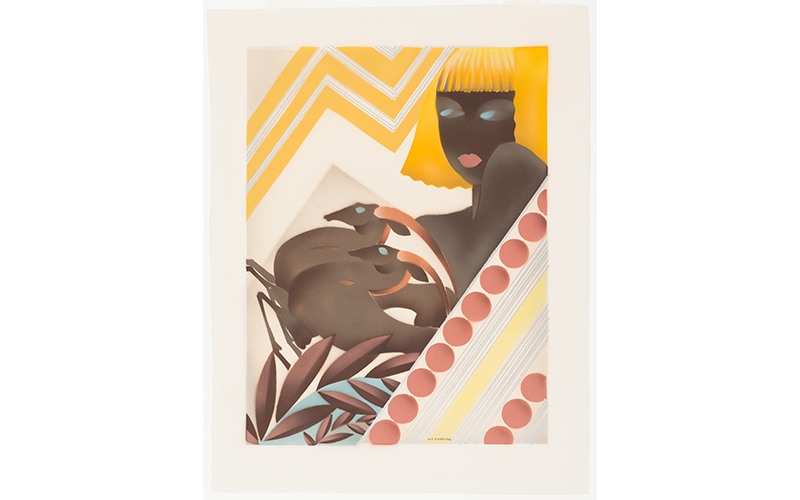 William E. Hentschell (American, 1892-1962), Woman with Antelope, 1930s, stencil, airbrush, and gouache, Cincinnati Art Museum: Gift of Mr. and Mrs. L. P. Stewart, Jr., 1984.156
---
Transcript
Hello, my name is Darius Danyluk and I am a Gallery Attendant at the museum. I will be reading the Art Deco section for Unlocking an Art Deco Bedroom by Joseph Urban.
Did you know that none of the objects in this exhibition were referred to as "Art Deco" when they were created? Historians coined the term Art Deco in the late 1960s. It derives from the Exposition Internationale des Arts Décoratifs et Industriels Modernes, the 1925 Paris world's fair. There, works in this new, modern style were first introduced to international audiences. At the time of their creation, Joseph Urban's designs, and those of other designers who fused decorative forms with the unique features of modern life, were usually labeled as "modernist," "modernistic," or simply "modern," reflecting the sense of timeliness and freshness they evoked.
While modern designers each had their own style, their vocabularies generally incorporated abstract and geometric forms, clean lines, sharp contrasts, and increasingly simplified ornament. Their designs endeavored to embody the sights and sounds of modern American cities: high-rises, jazz, and automobiles. Occasionally, they infused their work with aspects of cubism, neoclassicism and the arts of Africa, Japan, Aztec Mexico, and ancient Egypt. Their use of newly developed materials, like plastics and aluminum, reflected advances of the era and often made designs that evoked luxury more affordable and easier to maintain.
---