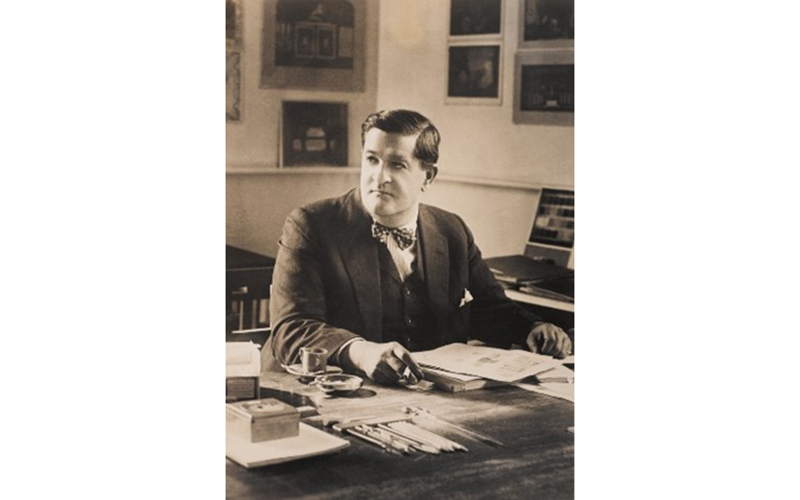 Joseph Urban seated at his desk, looking away from the camera. Framed pictures hang on the wall behind him.
---
Transcript
Hello, my name is Kiara Galloway and I am a Visitor Services Assistant at the museum. I will be reading the Joseph Urban section in Unlocking an Art Deco Bedroom by Joseph Urban.
Considering the staggering quantity, complexity, and range of projects that Urban completed in the twenty-two years he spent in the United States, one wonders if he ever slept. Joseph Urban's daughter, Gretl, noted that her father "enjoyed the pleasures of life with enormous gusto, but he enjoyed his work even more." His gregarious demeanor and unmatched charm, paired with his dedication and talent, won him a bounty of connections and projects that would establish him as a design star of the era, creating works that reflected and defined a modern mode of life.
Joseph Urban was born in Vienna, Austria, and studied architecture at the city's Academy of Fine Arts in the late nineteenth century. During this period, many Viennese artists, including Urban, rejected historical precedents and embraced a new modern art. Urban arrived in America in 1911. Over the next two decades, he played an integral role in introducing modernism to the country and in showing Americans the possibilities of the new style—how it could be used as they fashioned themselves and their spaces. His work designing opera, theater and film sets, buildings, interior spaces, textiles, and products ranging from furniture to cars positioned him as one of the most influential designers of the early twentieth century.
---