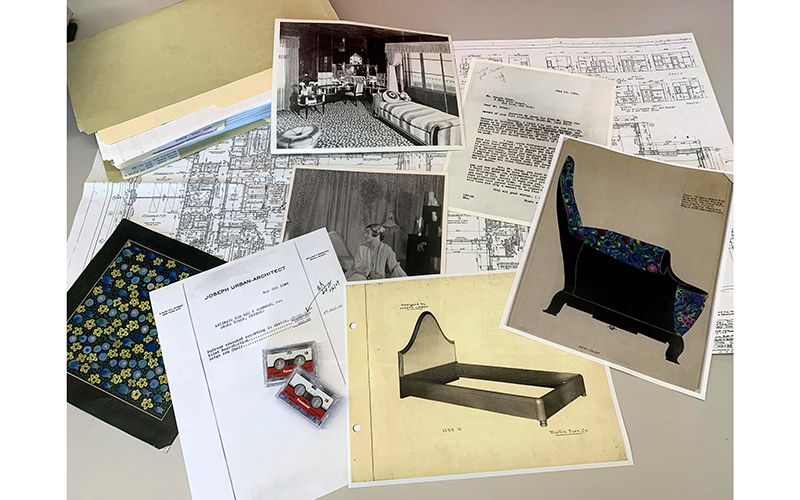 Primary documentation related to the Wormser Bedroom
---
Transcript
Hello, my name is Rachel Boggs and I am a Visitor Services Assistant at the museum. I will be reading the Searching for Clues section in Unlocking an Art Deco Bedroom by Joseph Urban.
Our team began by carefully examining all primary documentation about the room, Joseph Urban, and the Wormser family. We consulted photographs of the bedroom taken just after its completion, a blueprint of the Drake Tower's
27th floor, invoices, previously recorded interviews with Elaine Wormser Reis, and design sketches and images from the Joseph Urban Archive at Columbia University's Rare Book & Manuscript Library. Paired with the room's remaining original objects, this information formed our basic understanding of the space and of Urban's vision for the commission.
To fully understand the scale and proportions of the Wormser Bedroom's ceiling height, Vitrolite panels, and missing objects, consultant R. Mark Adams drafted numerous hand and computer renderings over a period of months. Determining the correct vanishing points for each view of the room as photographed in 1930 was essential to this process, but the photographer's equipment and techniques had created considerable distortions and only made the process more difficult. Ultimately, the consistent pattern in the room's carpet became a helpful graphing tool, and the metered pattern of inlaid bands in the dressing table and occasional table validated precise calculations of scale and dimension for the elements that required re-creation.
---